UK-based cryptocurrency miner Argo Blockchain (ARB) has seen its share price drop by 91.67% year-to-date as cryptocurrency prices have fallen, reducing revenue from the company. A £24m financing deal fell through at the end of October.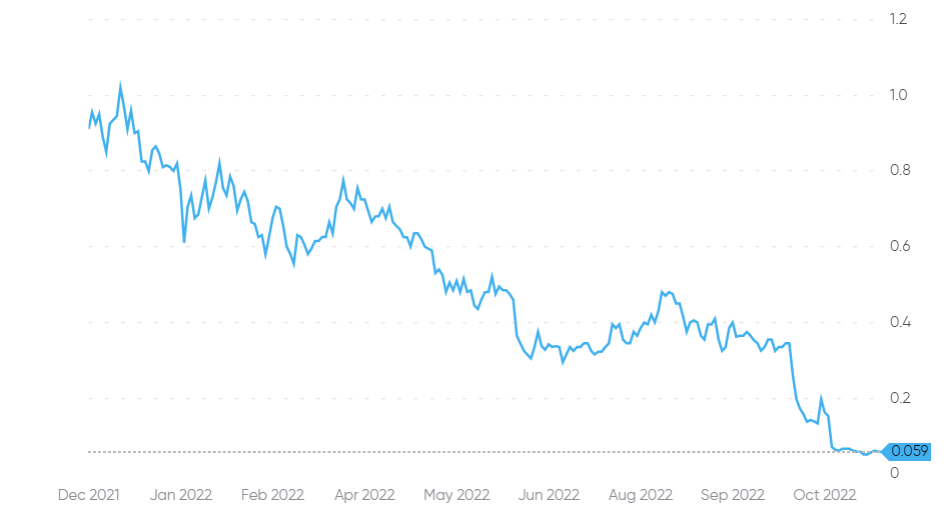 Will the company survive the turbulence of the crypto market? Is there potential to profit by buying the drop in ARB share price?
Let's look at the stock's recent performance and potential long-term outlook.
What is Argo Blockchain?
Argo Blockchain is an enterprise-scale provider of cryptocurrency mining and smart contract services. The company aims to provide "accessible" cryptocurrency mining through a subscription service. To limit the environmental impact of mining, Argo focuses on using renewable electricity to support the growth of blockchain technologies.
The company was founded in 2017 by tech entrepreneur Peter Wall, who serves as its CEO, and Mike Edwards, who was CEO until January 2020, when he left to focus on his role as CEO of Pioneer Media Holdings.
Argo was listed on the London Stock Exchange in a £25 million initial public offering (IPO) in August 2018, the first public listing of a cryptocurrency company on the exchange. The share was priced at £0.16 per share, giving the company a valuation of £47 million.
In September 2021, Argo listed 75 million American Depositary Shares (ADS) on the Nasdaq Global Market at a price of $15 under the symbol 'ARBK', raising $112.5 million.
ARB share price plunges in bearish crypto environment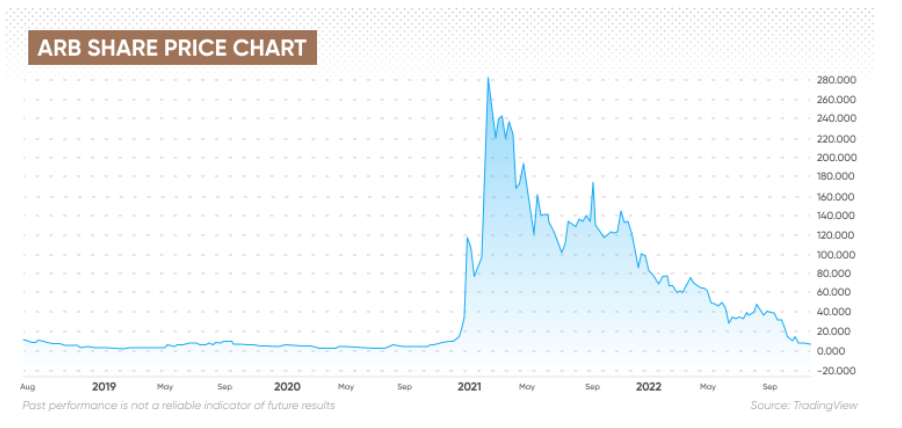 Argo share price has fallen from its peak of £2.82 in February 2021, when the crypto market rally took off. But while shares followed the pattern of cryptocurrency volatility, they didn't keep pace with bitcoin (BTC) market gains, with shares trading as high as £1.73 in September and £1.44 on November 12, after bitcoin traded at an all-time high price above $68,000 on November 11.
Argo announced in July 2021 that it has begun construction on a bitcoin mining facility in Texas. However, the share price came under pressure as investors worried about the cost of the facility. In August 2021, short seller Boatman Capital warned investors: "We believe Argo Blockchain bought land in Texas apparently for up to 100 times what the acreage is worth, raising serious governance questions about why it was done." this agreement and who benefited.
"We are especially concerned that nine of the beneficiaries of this deal appear to be Argo shareholders. We are also concerned that a seemingly unreported multi-million dollar legal dispute between Argo and the Celsius Network could threaten future bitcoin mining capacity and revenue. Argo leases around 40% of its mining fleet from Celsius."
A source revealed that the facility could cost between $1.5 and $2 billion, which the company later confirmed in a statement on November 5.
The stock ended the year at £0.98 and has been on the decline ever since amid cryptocurrency market turmoil. The share price halved in May 2022 to £0.50 when Argo began mining bitcoin at the Texas site, as a strong US dollar and the collapse of the terra luna cryptocurrency caused turbulence in the markets. markets.
Argo shares fell to £0.30 in mid-June before rising and trending towards £0.50 in mid-August as the company reported higher BTC mining revenue and the completion of a exchange of machines with Core Scientific. There was also a more favorable risk environment in the broader financial markets.
But the share price fell after Argo announced a 14% decline in H1 revenue from the first half of 2021 to £26.7m, "primarily driven by a decline in price." of Bitcoin and an increase in the global and associated hashrate". network difficulty level."
Additionally, the company revised its hash rate capacity guidance to 3.2 EH/s by the end of 2022 and 4.1 EH/s during Q1 2023, noting: "We have worked closely with ePIC
and Intel to modify the machine design to increase overall mining efficiency, which has delayed our expected implementation schedule. Additionally, we are preserving our optionality by reducing our overall capex on these machines as market conditions remain volatile. We remain confident in the performance of the custom machines and are excited to roll them out starting in Q1 2023."
The share price continued to fall throughout September and on Oct. 11, Argo reported a decline in BTC mined in September to 215 bitcoin. or bitcoin equivalents, from 235 BTC in August.The decrease was primarily due to a 12% increase in the average difficulty of the Bitcoin blockchain network during September, and the company continued to restrict on-premise operations of Texas during periods when electricity prices were high
ARB's share price fell from £0.36 in early October to £0.14 on October 13. While the price rebounded from £0. .11 on October 21 to £0.21 on October 26, failed to hold the gain and fell to a new low of £0.07 on November 2 Since then, shares have fluctuated between £0.07 and £ 0.08 per share L Cryptocurrency prices have come under renewed pressure in November due to the rapid collapse of the FTX exchange. On October 7, Argo had announced plans to sell 3,400
mining machines for cash proceeds of £6 million and to raise £24 million through a proposed share subscription with a strategic investor. But on October 31, the company stated that the deal had fallen through and that it "continued to explore other financing opportunities." The company added that it had sold 3,843 new mining machines for £4.8m in cash.
On November 8, Argo announced that its mining revenue for October came to £3.55 million. That was 51% less than £7.24 million in October 2021. Argo mined 204 BTC in October, down from 215 BTC in September, as Bitcoin network difficulty continued to rise.
Lack of funding and falling cash flow have raised questions about Argo's long-term future.
"While Argo is exploring other financing opportunities, there can be no guarantee that definitive agreements will be signed or that transactions will be consummated. If Argo is not successful in completing any additional financing, Argo would become cash flow negative in the near term and would have to scale back or cease operations," the Oct. 31 statement said.
"The Company endeavors to complete such financing transactions to provide the Company with sufficient working capital for its current needs, that is, for at least the next twelve months from the date of this announcement."
Where do analysts see stock trading going forward? What do some of the latest Argo Blockchain stock price predictions indicate?
Argo Blockchain Stock Price Forecast: Will the Company Survive in the Long Term?
At the time of writing (21 November), the 12-month median ARB share price forecast by two analysts was £0.0730 per share, with one rating the stock a 'buy' and the other gave it a "neutral" rating, according to Invertir.com. That would make the share price little changed from the current level of £0.075.
Algorithm-based forecaster Wallet Investor's Argo Blockchain share price forecast at the time of writing projected that the shares could fall from £0.08939 to £0.0559 in December and then fall further below £0. .01 to £0.0000212 in May 2023. Wallet Investor's Argo Blockchain 2023 share price forecast indicated that shares could effectively drop to zero by mid-year.
However, AI Pickup's Argo Blockchain 2025 share price forecast showed the shares rebounded to an average of £6.806, from £0.7553 in 2023. Meanwhile, according to data compiled by MarketBeat, the Forecast targets for Nasdaq-listed ARBK shares have
ranged from $8 for HC Wainwright on August 26 to $3 for Barclays on October 10. On November 1, analysts at Jefferies Financial and Canaccord Genuity downgraded the shares from buy to hold, while analysts at Stifel Nicolaus downgraded their hold to sell. The ADS price closed at $0.82 on November 18.
Gov Capital's Argo Blockchain stock price forecast for the company's ADS shares estimated that the price could drop to zero by December 2022.
If you're looking for an Argo Blockchain stock price forecast to inform your trading strategy, it is important to remember that the high volatility of cryptocurrency and stock markets makes it difficult for analysts and algorithm-based forecasters to make accurate predictions about the future of stock prices.
We recommend that you always do your own research. Check out the latest market trends, news, fundamental and technical analysis, and expert opinions before making any investment decisions. Please note that past performance is not a guarantee of future performance. And never invest money that you cannot afford to lose.