1. Blockchain in Oil and Gas
When: September 12, 2017
Where: Houston, Texas, USA
Keep your plans for September 12 and make time for the Blockchain in Oil and Gas Conference. Speakers, represented by CEOs and directors of major companies, will address topics that have long been of interest to the oil and gas community. The Blockchain in Oil and Gas Conference aims to reinforce public understanding of how blockchain and cryptocurrency can transform the oil and gas industry within the evolving technology landscape.
2. Blockchain Summit 2017
When: September 22, 2017
Where: Melbourne, Australia
Blockchain technology has a strong leadership in optimizing virtually every industry around the world and has a good chance of becoming the leading disruptive innovation in the world. history. Blockchain Summit 2017 aims to bring together experts and representatives from leading industries to reveal the opportunities, challenges, and potential implementation areas of blockchain technology, as well as present the incentives and practices of rapidly progressing companies and startups. The Blockchain Summit 2017 is held under the guidance of UNICOM, which has a strong focus on Business, IT and Finance and specializes in holding conferences, webinars and courses within the spheres.
The Blockchain Summit 2017 is open to all who are interested in technology and all related spheres. For more information and to register for the event.
3. Blockchain Expo North America 2017
When: November 29-30, 2017
Where: Santa Clara, Silicon Valley, USA
Blockchain-related technologies are advancing at a rapid pace and the number of companies striving to implement them effectively is growing by the day. day. Blockchain Expo continues to set the pace in the industry and is now gearing up to welcome guests to California! The most innovative conference and exhibition will cover all the latest developments in blockchain technology and bring together major business players and interesting individuals in one place. Blockchain Expo North America is a perfect meeting place for representatives of various industry sectors to keep up with blockchain trends and applications.
Don't miss out on attending Blockchain Expo North America and taking advantage of exclusive networking opportunities.
4. The Trading Show New York 2017
When: October 3, 2017
Where: New York, USA
The Trading Show New York is a landmark event for everyone involved with finance. The event will cover the full range of topics closely related to the trading industry and will convey the key approaches for companies to stay on top. Special attention will be paid to the blockchain revolution, decentralized technologies and the cryptocurrency market.
The Trading Show New York presents not only a forward-thinking conference with keynote addresses, panels and interactive panel discussions, but also an exhibition with a variety of networking opportunities.
You don't want to miss this event, do you? Then quickly register for the Trading Show New York at the event.
5. FinTech Next Generation Conference and Workshop
When: November 6-7, 2017
Where: Washington, DC, USA
Today, FinTech is widely regarded as the most promising industry transforming the financial services sector through technological innovation. The FinTech landscape is rapidly evolving with new disruptive technologies emerging on the market. Blockchain is the biggest FinTech related invention so far. It has revolutionized the business world and the conventional notion of money, giving birth to the concept of cryptocurrency and Bitcoin.
On November 6 and 7, industry leaders will reopen a discussion on the impact of blockchain technology and cryptocurrencies at the Global Fintech Conference & Workshop in Washington DC. Attendees will enjoy the opportunity to collaborate and discuss financial innovations, risks, and regulatory developments around online markets and digital finance.
6. Blockchain for Finance Conference, Europe
When: October 3-4, 2017
Where: Dublin, Ireland
Blockchain and Finance are closely related. The financial industry is now flourishing, in large part due to the introduction of innovative distributed ledger technology and a revolutionary approach to doing business.
On October 3-4, leading Finance and Technology specialists will come together at the 2nd Annual Blockchain for Finance Conference to discover real opportunities for digital ledger technologies within the financial services industry and share their ideas on how bring blockchain-related projects to a broad spectrum. extended deployment.
Conference attendees have the opportunity to participate in exclusive panel discussions and workshops, where speakers will share their original content and experience on the feasibility and use of blockchain technology in business and address the most challenging issues that concern financial services today.
7. Blockchain & Bitcoin Conference Stockholm
When: September 7, 2017
Where: Stockholm, Sweden
The birth of Bitcoin obviously heralded a new era in the world economy and proved to be the most important technological breakthrough in history. However, it has long been known that Blockchain technology goes far beyond finance. The number of industries implementing accounting and cryptocurrency technologies is increasing day by day.
The Stockholm Blockchain&Bitcoin Conference will feature presentations and discussions on the implementation and development of decentralized technologies, token issuance, legal requirements for Bitcoin-related businesses, and cryptocurrency adoption.
Blockchain&Bitcoin Conference Stockholm will bring together leading entrepreneurs, investors, blockchain evangelists and lobbyists, who will make practical suggestions on the application of decentralized technology and share their experience within the industry.
8. Middle East Blockchain Forum
When: September 25-26, 2017
Where: Dubai, United Arab Emirates
By using innovative technology, society takes a decisive step towards a smart future. Blockchain disruptive technology has already reshaped finance and is on its way to coming to the forefront of all industry sectors. By becoming a reality in all industries, Blockchain marks the turning point in the development of the global economy.
The Blockchain Middle East Forum focuses on Blockchain adoption within businesses, both in the public and private sectors, and aims to break new ground for ledger technologies to build the innovative business ecosystem.
On September 25-26, business leaders and government officials will come together in Dubai to help the community unlock the unlimited potential of innovative technologies and guide companies through the Blockchain implementation process in unique consultation sessions.
Get involved now and take advantage of the opportunity to benefit from networking with industry experts!
9. The Blockchain Summit

When: October 31, 2017
Where: London, UK The
Blockchain revolution is heavily covered by the media and therefore fewer people are unaware of the opportunities that can be realized by adopting the technology of records distributed by the main industries. However, theory and practice do not always coincide.
Blockchain Summit is the place where experienced leaders will not only help you understand what industry problems blockchain can solve, but also teach you how to take distributed ledger technology to the next level within your business. The event has a lot to offer in terms of collaboration, networking and experience sharing through unique case studies, as well as plenary and broadcast sessions.
10. Blockchain & Bitcoin Kiev Conference
When: October 12, 2017
Where: Kiev, Ukraine
The Blockchain & Bitcoin Conference is now heading to Kiev, Ukraine. The event welcomes investors, entrepreneurs, developers, and industry experts from around the world to cover all the hot topics related to the world of cryptocurrencies. Topics of interest include:
Blockchain technology and its role in finance, business, and government services;
Regulatory framework for cryptocurrencies;
Development and implementation of blockchain-based solutions;
Initial Offer of Coins and its future.
In addition to workshops, panel discussions, and sessions, the Blockchain & Bitcoin Conference Kyiv will host an exhibition for all attendees and showcase the latest cryptocurrency software and hardware.
11. Inaugural Global Fintech & Blockchain Summit in China

When: October 26, 2017
Where: Shanghai, China
While Blockchain technology is being widely adopted by many industries today, it is still perceived as a game changer in banking and finances. The Fintech boom resulted in a shift from traditional business models and triggered the application of innovation strategies in the financial services industry.
The inaugural Global Fintech&Blockchain China 2017 Summit will focus on the latest global trends for the Fintech industry and broader implementation of blockchain technology outside of finance, such as in insurance, real estate, healthcare, and government services. Speakers from around the world will define the opportunities and risks for blockchain-related businesses with a series of case studies.
This summit will be complemented by a mini exhibition and awards ceremony to highlight major achievements within the industry.
12. Crypto Friends Netup
When: October 6, 2017
Where: Barcelona, ​​Spain
CryptoFriends start selecting teams for the next event: Netup in Barcelona!
The Netup is a networking event where you will have the opportunity to present your project, meet investors, answer all their questions and speak personally with them in an informal environment.
In addition to fruitful conversations with investors, the teams will meet and discuss the projects with various experts and receive guaranteed media coverage in major crypto publications such as: Cointelegraph, Bitcointalk, Coindesk, Cex.io blog, Forklog.
The Top-10 projects will be selected by the experts to participate in the Netup. The top 3 projects based on the voting at the event will automatically have the opportunity to participate in BlockShow Asia 2017 in Singapore on November 29-30 and will be nominated for the ICOscar 2017.
Crypto Friends organizes blockchain-related meetups, festivals like hackathon and conferences. His events are attended by a wide range of people from different areas of the blockchain industry, from traders and investors to entrepreneurs and developers.
Its previous event, ICO Hypethon, took place in St. Petersburg and brought together 27 project teams, 37 investors, XX speakers. Visit the site for more information about the event, videos and photo reports.
13. Blockchain Summit Amsterdam
When: October 17, 2017
Where: Amsterdam, The Netherlands
What is blockchain? By far, today is a trend. Some people think that it is just a feature of each cryptocurrency, but actually it is a technology that has opened up the notion of decentralization. It can be applied practically to all areas, services and even ideas, because it changes our way of thinking. It is important to understand the full range of opportunities that blockchain can offer.
With the Blockchain Summit Amsterdam, planned for October 17, 2017, you have the opportunity to learn how Blockchain is specifically applied to all possible spheres: IT, finance, real estate, cyber security and much more. Various experts will discuss the hottest topics: from the use of Blockchain technologies in the given business sphere to risk management approaches. If you are interested in the latest trends that are about to build our future.
14. India Blockchain Week
When: September 22-26, 2017
Where: Mumbai, India
India Blockchain Week 2017, running from September 22-26, is one of the biggest events of the fall. Five crazy days of the Hack-the-Block hackathon have been successfully held and the Blockchain Conference has already taken its stand. The first Blockchain Conference was launched in London two years ago. Since then, it has been organized all over the world: from the USA, namely San Francisco and New York, to China, Israel and many more countries and cities. Now, it is time for India. The Conference covers all the main aspects of decentralized technologies and their role within and beyond the financial sphere.
15. Blockchain Summit London

When: October 5
Where: London, UK
What is blockchain to you? Is it some obscure concept that you constantly find on the Internet? Is it something that helped you take a fresh look at how things work? Or do you see it as a potential or even actual tool to help improve your business? Anyway, Blockchain Summit in London on October 5, 2017 will answer all kinds of questions. There you will learn what blockchain is, how it is implemented in any sphere that you might or might not have thought of. You will also have the opportunity to hear the opinion of the most respected experts in the following field. So if you are willing to discover Blockchain and the way it already works and will work in the future.
16. 5th Annual Back Office Operations Forum Berlin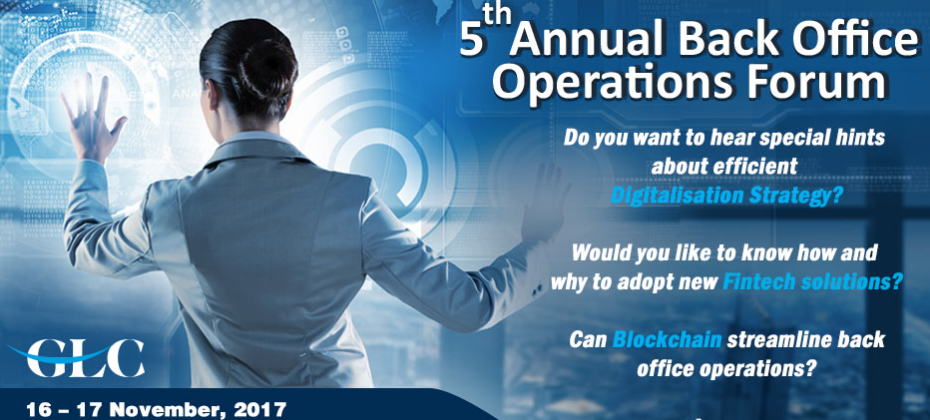 When: November 16-17, 2017
Where: Berlin, Germany
We live in a time of radical change in the financial sphere and in the banking industry itself. It's important to stay up to date, otherwise the service you already provide or plan to become outdated. For five years, the Back Office Operations Forum has kept its visitors well informed with the latest news, bringing together professionals from the banking field. This year, the forum will take place in Berlin, Germany, from November 16-17. You will have the opportunity to listen to more than a hundred expert opinions, real cases and much more. Visit the Agenda web page of the official website, find more specific information about the event and register.
17. BitBrum Cryptocurrency Show & Conference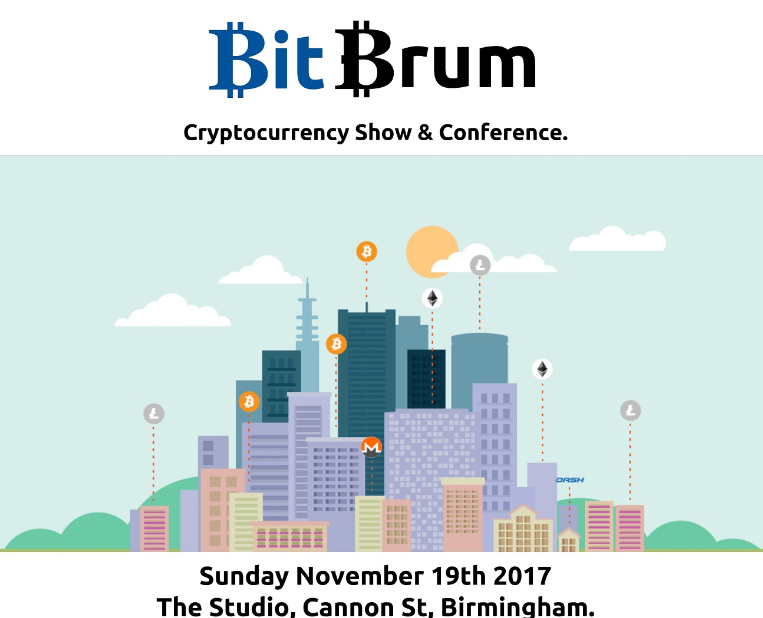 When: November 19, 2017
Where: Birmingham, UK
If you're interested in cryptocurrency, blockchain, and the future of this powerful industry, be sure to push your plans back to November 19, 2017. That day will take place the inaugural BitBrum conference on cryptocurrencies and 'blockchain' in Birmingham. The event initiators are not doing this for profit, they are interested in providing an opportunity for others to join the community of blockchain enthusiasts. In this sense, here are two good news for you: 1) The stage will be occupied by the most experienced exhibitors and speakers 2) Admission is free for everyone!
18. Finance Magnates London Summit 2017

When: 14-15 November 2017
Where: London, UK
Finance Magnates will bring together the most experienced technology leaders, brokers and start-ups for 6 years. And now, on November 14 and 15, 2017, they present the largest London Summit in history. A number of spokespersons this year have reached two thousand. You will have the opportunity to discuss all the hot topics in the field of finance and discover some expected future trends. If you have any doubts about how it will take place, you can watch the video of the previous Summit found on the official website and you will understand why people from all over the world flock to London to attend this crazy, fun and extremely educational event. .
19. Blockspot Conference 2017

When: November 13, 2017
Where: Lisbon, Portugal
has already been recognized by the community as a potential game changer that can revitalize the global economy. Day by day, blockchain technology is gaining wide acceptance among companies, governments and investors from all over the world. This serves as further proof that industries are leaning towards a major transformation.
On November 13, 2017, the key players of blockchain and bitcoin will meet in Lisbon, Portugal to share their professional experience with all who wish to enter the revolutionary world of Bitcoin and Blockchain. The Blockspot Conference claims to be the historic event related to cryptocurrencies for the entire Iberian Peninsula.
If you don't want to miss out on being a part of this event and benefiting from exclusive networking opportunities, visit the official website and reserve your seats.
20. GCC Blockchain Conference

When: 22-23 November 2017
Where: Dusit Thani Dubai, United Arab Emirates
Blockchain Solutions, the ecosystem around Blockchain technology is constantly advancing and expanding far beyond finance. Today, Blockchain is the most sought after technology that can disrupt virtually every business sector and make both public and private organizations enjoy its benefits.
As an attendee of the GCC Blockchain Conference, you will have a unique opportunity to cover all the hot topics and explore the potential of distributed ledger technologies for different service areas. The brightest leaders will come together to discuss blockchain technology in various business contexts and provide practical advice on Blockchain implementation.
Don't miss the opportunity to get a 20% discount with the promo code: #gcblockchain and register for the GCC Blockchain Conference.
21. ICO Amsterdam Event

When: November 29, 2017
Where: Amsterdam
These days, the initial coin offering has become a hot topic for the cryptocurrency community. Disputes around the ICO market as well as its operation and regulation continue unabated.
ICO Event Amsterdam encompasses a series of expert reports on cryptocurrency, blockchain and global investments that will be useful to entrepreneurs and investors interested in ICOs. The speakers will talk about the real perspectives of the ICO market in a global context, they will examine practical cases and they will review the legal framework of ICO projects. The exhibition area will also be available to attendees as part of ICO Event Amsterdam. It serves as a platform for effective business communication and networking, as well as a presentation space for development companies and startups to promote their projects and attract investors.
22. Cancun Ethereum Meetup
When: November 2, 2017
Where: Cancun, Mexico
various sectors. The most promising blockchain-based solution is smart contracting, which is successfully integrated within the Ethereum network. Smart contracts have the potential to revolutionize all modern industries and make most business processes easier.
Cancun Ethereum Networking Party is scheduled to bring Blockchain and Ethereum enthusiasts together on November 2, 2017 and introduce them to a new innovative platform, DGCAMP, that will revolutionize the investment industry. This Decentralized Global Capital Markets Platform is powered by blockchain technology and smart contracts and serves as a two-sided marketplace where issuers and investors can directly interact and benefit from a number of investment opportunities.
23. Blockchain WithTheBest
When: November 15-16, 2017
Where: San Francisco, USA
With Blockchain technology going live less than a decade ago, most industry sectors have already changed greatly. What is special about Blockchain? Although the technology was made public in terms of Bitcoin and cryptocurrencies, the overriding principle of Blockchain centers on the efficiency and integrity of the data that circulates within the Blockchain network.
Blockchain WithTheBest is the world's largest online summit dedicated to Blockchain and Cryptocurrency. It brings together 50 speakers committed to various industries. They will provide information on how Blockchain can be applied to finance, security, AI, and even more spheres. In addition to a detailed overview of Blockchain use cases for industries, those attendees who are more interested in the technical aspects will have the opportunity to delve into the finer points of developing blockchain-based solutions. If you would like to be a part of the Blockchain WithTheBest summit, please register for the event on the conference website.
24. Blockchain Summit Kyiv

When: November 25, 2017
Where: Kyiv, Ukraine
Blockchain technology is intended to solve a number of critical problems that arise in various industries today. Mainly, it finds expanding real world applications in the financial field. Blockchain has already been tested by insurance companies, brokers, merchants, and cryptocurrency-oriented businesses. What will go next?
Blockchain Summit Kyiv is a prominent event covering financial and technical aspects related to Blockchain. The summit, which will take place in Ukraine, one of the main supporters of the Blockchain initiative in the world, will bring together the most prominent developers, merchants and entrepreneurs to promote the implementation of Blockchain inside and outside finance, as well as provide practical advice. about the still popular method of earning income – mining. .
25. Monaco Growth Forums

When: November 28 to December 1, 2017
Where: London, UK and Geneva, Switzerland
In the midst of an advanced business environment, many innovation-oriented start-ups face challenges in obtaining investment for their projects . The Monaco Growth Forums provide unique opportunities for these companies to raise capital and gain greater global exposure.
This time the three-day event starts on November 28, 2017 and will focus on Blockchain technology. The Forum will remain a meeting place for the world's leading companies and institutional investors to benefit from international business networks. The Monaco Growth Forums help attendees make valuable connections and expand their media coverage.
26. Blockchain & Bitcoin Conference Cyprus
When: November 30, 2017
Where: Cyprus
Cryptocurrencies are steadily growing into a stand-alone sustainable industry attracting a lot of interest from investors. Such developments did not go unnoticed by governments and society. Some forward-thinking countries have already taken the first steps towards accepting Bitcoin, while others are friendly towards cryptocurrencies in general, but do not recognize them in legal terms. Cyprus is one such example of a Bitcoin friendly country.
Blockchain & Bitcoin Conference Cyprus will take the concepts of decentralized technology and cryptocurrencies beyond general interpretation and provide companies with solutions to problems of mutual interest. Conference attendees can also visit the exhibition which will feature some 25 innovative companies and offer unique opportunities for business cooperation.