Have you ever thought about having a career in real estate? Then the Metaverse is the perfect starting point for you. In this article , I'll explain how you can start a career as a real estate agent in the Metaverse.
The journey to becoming a successful real estate agent in the Metaverse isn't as easy as you think. It requires a lot of resilience, dedication, and certainly some advice from the experts.
This article highlights the virtual world of the Metaverse, discusses the virtual real estate community, and how you can start a career as a Metaverse real estate agent. There are also helpful tips available that can help you get started.
The Metaverse: What It Is
The new online catchphrase that seems to be everywhere right now is the "Metaverse."
The Metaverse can be described as an online three-dimensional area. It incorporates both virtual and augmented realities, allowing people to meet each other through online avatars. They can play games, shop, try on new clothes, attend concerts, and even buy property.
Many tech leaders like Mark Zuckerberg and Satya Nadella have spoken about it believing it to be the future. But other tech leaders like Elon Musk aren't as confident about it.
It's been almost 6 months since Facebook changed its name to Meta. He announced that he would now focus his future on the Metaverse. And ever since, we're still unclear on what the term means.
Actually, the Metaverse is an inventive concept that could potentially transform the way we use the Internet for years to come.
Meta is currently developing a virtual reality social platform, Roblox, for hosting meetings. Microsoft Corporation also has a similar app which they called Mesh. Some Metaverse platforms include Sandbox and Somnium Space. A few virtual job fairs have been seen in the Metaverse.
The Metaverse: Preparing for the Future
Gartner Inc. has estimated a 25% increase in the number of people spending more than an hour a day in the Metaverse by 2026. We can think of the Metaverse as a place where users can do to work, participate in leisure activities and can organize parties such as events.
The Metaverse combines virtual and augmented reality to properly replicate real life scenarios and experiences. We can refer to it as the most advanced version of the internet (Web 3.0).
The metaverse has always existed (about 30 years) but it was recognized after Mark Zuckerberg's announcement for the business opportunities it offered.
An example of such business opportunities is, in fact, the buying and selling of digital real estate. These virtual spaces serve as meeting points for digital avatars.
There is an assumption that with an increase in the number of users entering the Metaverse, the utility of digital real estate would be further emphasized. Companies have begun to invest money in obtaining real estate in the virtual world. It is possible to visit these farms on the computer, or through virtual reality headsets.
The sheer amount of talk about the prospects of the Metaverse has shifted everyone's attention to digital land buying and virtual real estate, leading to high prices. These digital platforms are grouped into blocks of land called Parcels and can be purchased using a crypto token or an NFT.
Once a purchase is made, you can decide to sell it back at a different price, even higher than its original value, or possibly rent it out for development or use in any Metaverse event.
Evolution of the real estate industry
The pandemic came with great changes. The real estate industry enjoyed a massive rise in the markets instead of a crash, which was a surprise. Video calls made things a lot easier as people could view any property they were interested in.
But now, with the invention of the Metaverse, things have gotten a lot more fun. We may have definite details of the houses we are interested in buying.
Builders enjoy showing off all their hard work, as a single project can take years to finish. And now, with the help of the virtual community, buyers can see and even touch any property that interests them.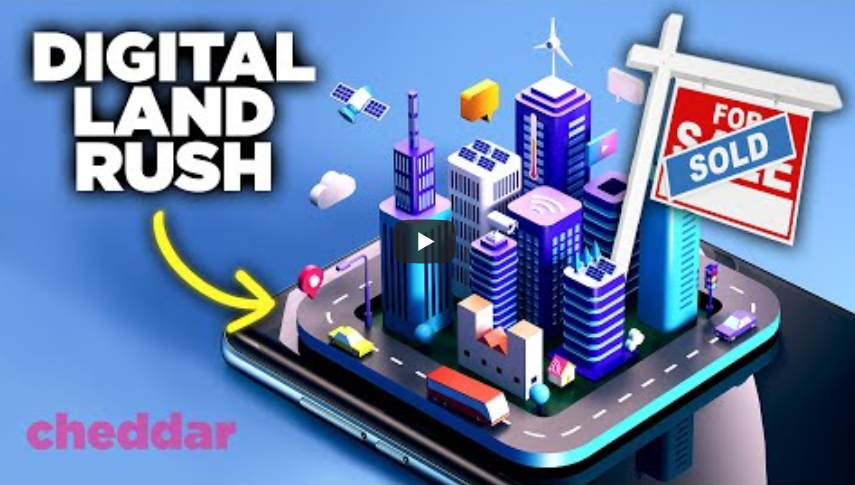 Real estate agents can hold any type of meeting with their clients anywhere in the world and give them an idea of ​​what their homes would look like and what their neighborhood would look like. They can cross a room and see the spaces. So instead of hitting the road for 1-2 hours, a virtual showing can be done within Metaverse
Virtual Real Estate
This Metaverse estate industry is gradually becoming a leading industry.
The Metaverse allows for the purchase of both virtual and digital land with the use of NFTs. After purchase, each buyer can develop these virtual land into commercial buildings and residential complexes. These lands can be sold for a higher value or even leased for virtual events.
Metaverse Real Estate
A metaverse is a three-dimensional online space where users can participate in some virtual activities such as
Virtual interactions
Meet with long-distance relatives and some friends
Take a walk in the virtual world
Own a lot or parcel of any desired metaverse property
Users can do all of this on laptops or even mobile devices.
The Metaverse serves as a conduit for the following services to its people/stakeholders:
Buying and selling virtual land
Fulfilling dreams by developing virtual land you own
Consulting services by a group of experts for all renowned metaverses
Identification of a rental in the Metaverse within a given specification.
Advertising services for any business
Leading virtual real estate agents have begun to partner with Metaverse developers to design and market their properties. Other agents invest in finished houses and prepare to receive their profits.
Who is a Metaverse Real Estate Agent?
Metaverse agents can function as real estate agents for properties in both the real world and the virtual world. Some Metaverse real estate investors seek the help of an agent to find a property that suits their needs.
Not everyone is interested in buying and living in any property they buy. Some owners simply purchase these properties to generate income for themselves.
Metaverse real estate agents can buy properties without the cryptocurrency aspect. These agents facilitate the purchase of land and also its development.
Since transactions now happen on the blockchain, most buyers feel they don't need a real estate agent to speed up the process and provide the paperwork. But this form of trading could be risky, as most trading parameters involve the help of a native or secondary market, also known as over-the-counter (OTC). These platforms exchange assets between peers even without listing on the real estate market.
While this type of exchange could generate a good deal, some users often get scammed as they are at the mercy of the person on the other side of the screen. And this is where Metaverse real estate agents come in handy.
As a Metaverse Realtor, providing real estate will help you generate income as people search for houses to buy in your favorite game.
Buying real estate provides several benefits. They include:
When you are placed in a highly busy Metaverse world, there is more visibility and then more business for you.
Owners can point to a location so only people from that location can see real estate listings.
Ultimately, as the Metaverse universe grows, more opportunities open up for new types of agents, such as virtual brokers that help buyers and sellers safely understand the process and conduct secure transactions. But a typical Metaverse broker has nothing to fear as the market is safe and profitable. This period is still later in the future.
Pros of Being a Metaverse Realtor
Work-Life Balance: As a realtor, you can live your life the way you want. You can schedule your time to accommodate the things you usually do, when you want.
The job comes with a lot of flexibility.
A real estate agent has a salary of $100,000 on average per year. This is enough.
You can work anywhere of your choice.
The disadvantages include:
It is necessary to always be available at all times 
The work can be quite demanding.
Working hours can be quite long and irregular.
We can see that to become a successful Metaverse real estate agent, you need to be dedicated and put a lot of effort into it. But all this is worth it.
Requirements to Become a Metaverse Real Estate Agent
To become a successful Metaverse Real Estate Agent, you must have the following on hand:
Good sales experience.
Strong interpersonal skills.
Excellent communication skills.
Have a good knowledge of the Metaverse: To excel as a Metaverse realtor, you need to have a good knowledge of the Metaverse. Get used to the different Metaverses so you can better serve your customers.
As you understand its features, you'll be able to meet your customer's needs and do it within your budget.
Have a good understanding of NFT, virtual property and commercial space rental – Understand NFT as a tool to transfer property rights.
How to Become a Metaverse Real Estate Agent
1. Get Education and Training
Becoming a successful Metaverse real estate agent would require a good education and training in the field. Knowledge of the real estate world of the Metaverse and its various types of properties
There are different ways to achieve this knowledge available in online courses, or even programs in most institutions.
You can also learn about the field by reading articles. There are several resources available to help you gain the knowledge you will need.
Proper training and education are important to becoming a successful Metaverse real estate agent.
2. Understanding Metaverse Transactions
Becoming a metaverse real estate agent requires an understanding of complex metaverse transactions. You need to understand the crypto market, crypto buying, crypto wallets, crypto exchanges, and the Ethereum blockchain, which is mainly used by Sandbox and Decentraland.
Tokens.com bought $2.4 million worth of property in Decentraland. The Republic kingdom also bought land for $4.3 million.
3. Join a Metaverse Real Estate Association
Another success tool is joining an association. There are many associations available that you can join and these different associations have their benefits. They can provide access to resources and information needed to help you achieve some of your goals.
These associations can also be an opportunity to meet other people in the same field as you, such as agents, brokers, and professionals, as well as build a strong network. Be sure to attend networking events, participate in professional organizations, and connect with others on social media.
4. Enter the market
Potential customers need to know you and understand what you can provide them. Use social media to your advantage and make sure you always stay professional.
Responsibilities of a Metaverse Real Estate Agent
Before you consider getting a job as a real estate agent, you should familiarize yourself with some of your responsibilities. They include
Being able to generate leads for clients to buy, sell or rebrand a property
Preparing to-do lists and setting a target
Advise clients on current market conditions and their prices.
Delivery of purchase offers to customers and receipt of orders.
Advertising lots with ads and listings
Expansion of Metaverse virtual lots
Guiding your clients through every stage of buying
Serving new leads quickly
Staying up-to-date on the happenings in the Metaverse virtual real estate market.
Keep clients abreast of market trends and purchasing processes
Here are some tips to keep in mind to guide you towards becoming a successful Metaverse real estate agent. If you
need help, try to seek the advice of a professional for help.