What is GameFi?
An Initial Game Offering (IGO) is a crowdfunding approach for video games. IGOs lower the barrier to entry for participating retail investors and give them the opportunity to secure in-game assets and tokens before they become available to the public.
GameFi combines gaming with elements of decentralized finance (DeFi). The term encompasses both the projects and the play-to-win games that make up the crypto gaming ecosystem. GameFi projects create a virtual environment in which players earn in-game tokens by fulfilling certain tasks in blockchain-based games.
Native gaming tokens are full cryptocurrencies in their own right. They are not just in-game currency that has no real market value. Players earn these cryptocurrency tokens by completing in-game missions, among other tasks. The tokens can then be traded on a centralized exchange or decentralized crypto exchange (DEX).
DeFi is built into the core of all GameFi projects. Blockchain game projects often incorporate DeFi components into the game itself. Features like token swapping, yield farming, staking, and mining are common in the GameFi ecosystem. A portion of the total supply of gaming chips is often set aside in a treasury to serve this exact purpose.
What is an IGO?
As mentioned, an IGO is an approach used by blockchain gaming teams to crowdfund an early-stage game. In return, early investors can receive lucrative in-game assets and tokens at a hefty discount ahead of the public sale.
IGOs differ from Initial Coin Offerings (ICOs) in that they are primarily focused on the gaming industry. By offering their game projects through an IGO, developers can apply for funding directly from their audience. The growing interest in this type of launchpad has fueled tremendous growth in the blockchain gaming space.
Crypto gaming projects have seen a rapid increase in revenue. Some established blockchain games have received multi-million dollar valuations. Developers love the low barrier to entry and financial benefits they bring, and continue to up the ante on the quality of the blockchain game projects they launch.
Each game outperforms the last, improving gameplay and functionality with each iteration. According to research from DappRadar, blockchain gaming currently accounts for 52% of all decentralized app activity.
In 2021, blockchain-based games received $4 billion in cumulative funding. The research also revealed that crypto game projects received $1.1 billion in funding in January 2022. Top-tier GameFi projects like Axie Infinity (AXS), Aavegotchi (GHST), and CryptoBlades (SKILL) boast thousands of active users. per day.
Based on this data, it is no surprise that blockchain games are increasingly being advertised and launched through IGOs. The premise behind an IGO is simple. Investors and potential players can buy blockchain game projects before the official release of the game.
Although an IGO is typically intended for early-stage funding, certain IGOs ​​are reserved for games that are already in development. Others present only the initial concept of a game, which is a long way from project completion.
An important benefit conferred on IGOs ​​is that the project is open to all investors. No longer does a gaming startup have to convince venture capitalists or approach a small group of high-net-worth individuals for funding. Instead, the project can directly engage its target audience through an IGO. If they are successful, they can secure the financial support that will see the project through to completion.
How does an IGO work?
IGOs are similar to ICOs in that they are both vehicles for raising capital for new projects. IGO participants purchase and receive early access to in-game assets and in-game benefits to support the early stage of game development. Participants can also receive the tokens designed for the game before its public launch.
The assets offered during an IGO range from characters to skins, weapons, accessories, and mystery boxes. These assets often live on the blockchain as NFTs. Some of the assets offered through the IGOs ​​are required to access or play the game.
IGO in NFT
As with any other video game, players can earn in-game tokens and receive power-ups and special items. With blockchain games, players are rewarded for their investment in the game with tokens that can be traded directly on a cryptocurrency exchange. Non-Fungible Tokens (NFTs) provide established and promising blockchain gaming projects with considerable financial value.
NFTs help keep track of game assets. Digital items like weapons and skins are stored as NFTs, with their information permanently printed on the blockchain. GameFi's NFTs give players actual ownership of in-game items. Every asset earned, purchased, or generated in-game is recorded on the blockchain as NFTs.
Storing them as NFT prevents the assets from being modified by an external party. These assets are valuable to the game and, like any other NFT, can be bought or traded on an external market.
Both Project GameFi's in-game tokens and their NFTs can be traded on a DEX. Players can then exchange their in-game currency and assets for established cryptocurrencies such as Ethereum (ETH) or Bitcoin (BTC).
GameFi tokens can also be exchanged for stablecoins. Alternatively, a player can choose to exchange a token for fiat currency. Either way, money earned in-game is now yours to trade, and not simply an asset tied to the game.
Tokens have always played a role in video games that feature in-game markets. What changes GameFi is the ease with which these assets can be quickly and legally converted into cash.
Players earn these tokens in-game and use them to purchase new assets such as weapons, outfits, or potions within the game. Project GameFi tokens can be sold outside of the game at any time.
What is an IGO Launch Pad?
Launchpads allow creative fundraising projects and investors to interact. An IGO launchpad is a platform that hosts a number of early-stage blockchain gaming projects. Investors buy the native token from the IGO launchpad and use it to fund contributions to chosen IGOs.
Depending on the platform of the launchpad, participants must lock their tokens in a pool or stake them to invest in the project. Participants are then given in-game tokens or NFTs needed to play the game. Popular IGO launch platforms include GameFi, Seedify Fund, TrustPad, and BinanceNFT.
How to Participate in
Pads Each OIG launch pad has its own process. The typical process involves first connecting a wallet to the launch pad. Subsequently, the investor must select a level that reflects the value of the investment and identify an IGO in which to invest.
The specific details on how to execute these steps depend on the launch pad. Some launch pads focus on games. Others offer blockchain games in conjunction with other projects. An IGO launchpad can be hosted on any blockchain, such as Ethereuem, Cardano (ADA), or BNB Chain (BNB). Each launchpad has its own criteria for accepting new projects and different processes for accepting potential investors.
Popular Crypto Games
Below is a list of launch platforms for popular games in the crypto space.
Binance NFT
Binance NFT is a marketplace for crypto enthusiasts to create and trade NFTs. IGOs on Binance NFT grant access to exclusive in-game assets. Binance NFT uses a subscription system to give all users an equal opportunity to participate in their IGOs.
NFTs are assigned through a public and verifiable algorithmic selection, ensuring fairness for all users. The details of each blockchain game project are displayed within the IGO. Investors can learn more about a project and also get acquainted with the team.
Seedify Fund
Seedify is a household name when it comes to intergovernmental organizations. The decentralized launch pad is governed by a decentralized autonomous organization (DAO). Crypto gaming projects can promote their game to the Seedify community for evaluation. Projects with positive evaluations can secure seed funding in this way.
Between 250 and 100,000 Seedify Tokens (SFUND) are required to participate in Seedify IGOs. Seedify has nine levels. Level 1 is a lottery level. The guaranteed allocation of each IGO on the launch pad starts at Tier 2.
Unlike lotteries, the guaranteed allocation ensures that investors have access to a portion of the total launch pad projects at all times. This allocation is distributed proportionally based on the level or level of investment of the investor.
GameFi
GameFi has four investment levels. Only one level is guaranteed assignment to its IGOs. GameFi awards one lottery ticket for every 20 FATF tokens, which is the minimum required to participate.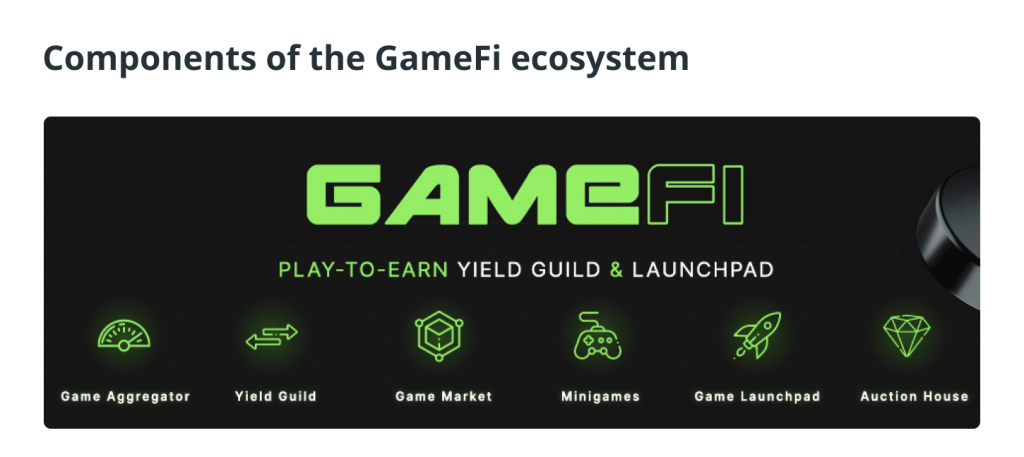 Since three of the four levels are lottery tickets, the chance of guaranteeing a spot increases with each level. For example, the "Elite" level (at 100 FATF tokens) comes with five lottery entries. The GameFi whitelist has a limited number of places. This number is announced in advance to all investors hoping to participate in an IGO.
Trust Pad
Also known as one of the most secure multi-chain launch pads, Trust Pad is more of an IDO launch pad. While beneficial to the crypto gaming ecosystem, Trust Pad does not focus solely on gaming, but uses DeFi instruments to allow organizations to raise funds from early-stage investors.
Trust Pad has nine levels, which are a combination of lotteries, guaranteed allocations, and weighted entries. Weighted entries are lottery entries with more tickets or a higher percentage of entries than previous levels. To participate, investors need a minimum of 3,000 Trust Pad Tokens (TPAD).
Enjinstarter
Enjinstarter is an IGO launchpad that focuses on expanding the crypto gaming ecosystem within the Enjinstarter network. Enjinstarter has a unique approach: the ecosystem reserves 75% of IGO tokens for guaranteed allocations, which is divided into three tiers.
To participate in the guaranteed allocation, a holding of between 25,000 and 500,000 Enjinstarter tokens (EJS) is required, and 25% of the remaining Enjinstarter tokens are made available in the community pool.
This approach allows anyone with a small ownership of at least 1,250 EJS tokens to participate in an IGO. Enjinstarter operates on a first-come, first-served basis and presents a low barrier to entry for new OIG participants.
IGO
People can develop IGO launchpads to create their crypto gaming fundraising platforms. While IGO platforms are better established, trying to whitelist a game can be a time-consuming process.
Developing a single IGO launchpad is the most cost-effective approach for game developers to control which blockchain games they want to raise funds for.
A game developer can use this approach to build their own IGO platform, one that is similar to Binance NFT, TrustSwap, or EnjinStarter. The goal of IGO Launchpad development is to build an open platform where blockchain games can be whitelisted to raise funds.
IDO vs IGO: What's the difference?
Initial DEX Offerings (IDOs) are a common fundraising method in the crypto gaming ecosystem. IDOs are used to advertise upcoming blockchain projects, just like IGOs. The difference between an IDO and an IGO lies in their scope.
Any project launched on a DEX can be classified as an IDO. However, with an IGO, the investment is specifically directed towards the development of a blockchain game. Compared to ICO, IDOs are easier to execute.
Tokens announced through an IDO are instantly listed on the DEX they were launched from. The projects also ensure immediate token liquidity. However, IDOs lack a robust and comprehensive review process. Consequently, compared to ICOs and IGOs, IDOs have a higher rate of low-quality and fraudulent projects.
The Way
Ahead IGOs ​​on the blockchain are a significant way for crypto gaming projects to raise funds. An IGO can also create enough buzz to secure an audience before a game is released.
IGOs are a relatively new offering. While many blockchain game projects have been able to successfully fund their projects through an IGO, some developers have not met their obligations. These developers never implement the full game and leave investors at a loss.
There is still significant risk to investors in participating in an IGO, especially for investors funding early-stage game concept projects. When it comes to investing in IGO projects, research and due diligence are key to avoiding some of the most common pitfalls and scams.
Regardless, the IGO space continues to grow. More quality projects are being launched through IGOs ​​than ever before, and IGOs ​​are steadily becoming a mainstay in both blockchain gaming and the cryptocurrency industry in general.