Crypto Launchpads, often referred to as IDO Platforms, are platforms for launching new coins, and crypto projects, and increasing liquidity. They are the next big thing in the digital world, specifically in terms of decentralized finance.
An IDO is a crowdfunding platform for any new project launched on a decentralized exchange platform that uses coins or tokens. Due to the project's blockchain-based approach, people from diverse backgrounds can contribute.
According to CryptoMinati Capital, "Launchpads provide regular investors with opportunities previously only available to venture capitalists and other large-scale investors."
If you do your research from top to bottom, make sure you find the best projects in the early stages, for example, a Telegram channel like Crypto Gaming Bulls helps people with gaming IDO, and their community analyzes if a project is good or bad.
Furthermore, as the project begins to see results, the implications of its success could increase the value of these coins and tokens, generating profits for early contributors. This level of mutual benefit encourages both parties to participate in IDOs.
Best Crypto IDO/ICO Launchpads [2022] 
Here is a list of successful IDO platforms that you might like to keep an eye on.
#1. FireStarter: IDO Launchpads for Metaverse Platforms
Overview
As the first launch pad IMO — Initial Metaverse Offering —, FireStarter runs on the Polygon network and supports DeFi, NFT, GameFi, and Social Token projects. With a trademark phrase, "Own The Future", this platform offers a unique opportunity for investors to participate in integrated Metaverse projects in their early stages. Building IMO, up-and-coming crypto projects use this platform to raise funds, allowing the community to invest in what they think is the next big thing.
Crypto projects use the FireStarter platform for two main reasons. On the one hand, this allows a new and unknown project to gain more followers. Similar to this, the second point, is that it allows the project to be financed quickly, in record time, in fact.
The benefit for investors, who can be anyone, is that by purchasing $FLAME, FireStarter's trademark token, they have pre-sale access to funding rounds and early options to participate. This encourages community-driven, culture-magnified projects, bringing people into the Metaverse.
FireStarter also expands the reach of the crypto projects they support through influencers, celebrities, and industry partners; in other words, it increases the community of each project (that it helped launch) through culture.
#2. BSCPad: First Decentralized IDO Platform on Binance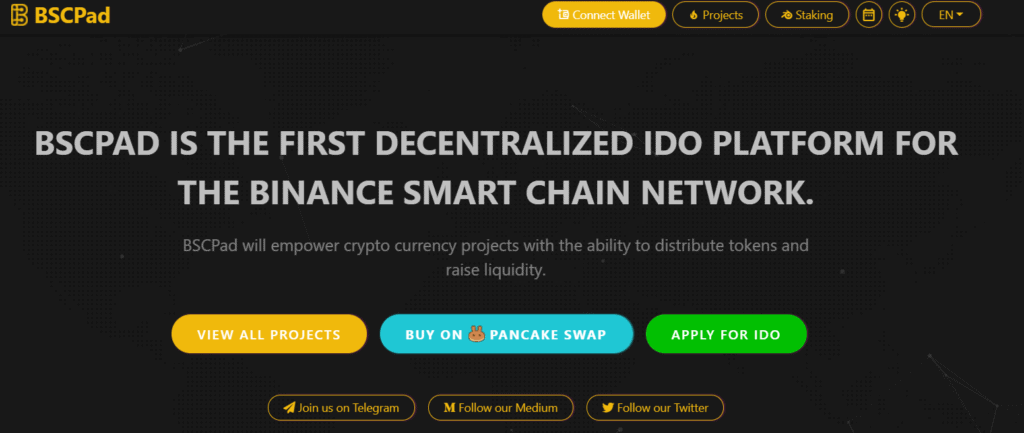 Overview
The BSCPad platform provides cryptocurrency projects with a means to distribute tokens and increase liquidity. It is a platform for fair and decentralized releases.
BSCPad aims to be the next generation of blockchain launch pads that address issues with staking. Existing launch pads face a challenge due to an underlying problem, acquiring enough tokens to participate in the ecosystem is prohibitive, and even if you stake the tokens, the allocation spot is never guaranteed.
This platform benefits all token holders and enables fair launches, allowing merchants of all sizes to invest in the best upcoming Binance Smart Chain projects. The BSCPad is characterized by its two-round system that guarantees that each level receives an assignment.
Through their market-leading advisory, investment, development, influencer marketing, and legal support services, they specialize in bringing you a unique approach from ideation to execution. BSCPad works with a variety of users and organizations, including small and medium-sized businesses, corporations, freelancers, nonprofits, and the government.
The current market price of BSCPad is $2.25 today, with a 24-hour trading volume of $8,050,962. There are 79 million BSCPad coins in circulation, with a total production of 176 million.
#3. GameFi – IDO's Best Launchpad for Best Return on Investment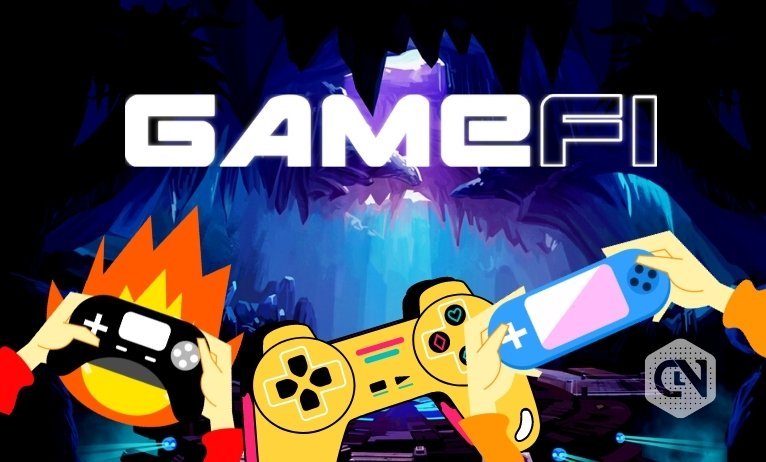 Overview
GameFi is an esports ecosystem that includes Fantasy Games, Gambling, Lottery, PVP Games, and NFT Market. GameFi aims to become a global platform where users can interact with gamers and play games without any restrictions from any country. The only game-specific launchpad, designed to be network independent. The companies that provide these services charge too much and users become disillusioned.
GameFi aims to solve this problem by tokenizing the platform. Blockchains allow for fast transactions and better executions. GameFi is a very different type of platform because the betting dividend is almost 51%. It uses Solana's blockchain technology to protect user data. It will also be cost-effective and it will also be a super fast user system.
As most of the fantasy sports are not aware of blockchain technology, GameFi provides a seamless experience to its users. GameFi will take care of all the technical processes, allowing players to have a smooth gaming experience. GameFi records and displays every in-game action to create transparency and fair gameplay. Gamefi uses cryptocurrencies as a form of payment so that everyone can easily play games on a global platform.
#4. Seedify: Decentralized Launchpad on Blockchain 

Overview
Seedify is a blockchain innovation hub that comes along with a DAO-powered seed-stage fund. It is a decentralized incubator and launch pad that is powering the next innovations in the blockchain ecosystem. This is done by community-driven governance and through the use of feedback, participation, and funding mechanisms. Any innovator or entrepreneur can submit their work to Seedify to get a community vote for their seed fund.
If you want to know what are the latest and most well-known platforms where you can buy seed funds, the names are Kucoin, and Pancakeswap. The Seedify launchpad is providing a path for crypto startups to promote their projects. The main advantage for investors is that it provides early access to launch prices for new projects looking to raise cash before launch. 
#5.TrustPad: IDO
Overview
TrustPad is a decentralized multi-chain fundraising platform that enables organizations to raise funds while assuring early-stage investors that their funds will be safe. It is another one-of-a-kind launchpad platform based on the Binance blockchain. Certik Skynet, Ethereum, MetaMask, Solana, Trust Wallet and WalletConnect are also supported.
The purpose is to provide users with a fully integrated limit order experience by removing the friction associated with current platforms. Users can run to win, resulting in a long-term ecosystem where new merchants can learn more about the operations that underpin transactions. TrustPad works with medium businesses, small businesses, enterprises, and free users.
Tokenova, Lupa X, GD10 Ventures, BlockSync Ventures, X21 Digital, Meridian Capital, Wealth Union, Twin Apex Capital, and 4SV are TrustPad Partners.
The current market price of TrustPad in November 2021 is $0.527874, with a 24-hour trading volume of $1,572,450. In the last 24 hours, TPAD's profit margin has increased by 9.0%. It has a supply of 100 million TPAD coins and a circulating supply of 0 TPAD coins.
#6. DAO Maker – Successful DAO Pad

Overview
DAO Maker is a secure retail-oriented start-up funding platform. After its launch, it has evolved to encourage low stake frameworks, allowing many retail investors and individuals to get involved in venture capital. DAO Maker is now available on various online sharing platforms. It cannot be purchased directly with fiat money, but coins can be obtained by buying Ethereum through any of the fiat currency exchangers for cryptocurrencies.
This project develops growth technologies and financing frameworks for companies while reducing risks for investors. This is a great option for anonymous projects looking to run an IDO and reach as many users as possible. DAO Maker integrates with platforms like MetaMask, 1inch, Ronin, WalletConnect, and Wanchain.
The current price of DAO Maker is $3.85, with a 24-hour trading volume of $15,609,084. It is up 2.9% in the last 24 hours. There are 68 million DAO coins in circulation, for a total supply of 278 million.
#7. Bounce – De-Fi IDO Project
Overview
A decentralized auction solution for anyone interested in creating, designing, connecting, collecting, and trading various assets, tokens, and NFTs. Bounce powers an ecosystem of auction products. Bouncing services are offered on various blockchains, allowing for more opportunities, play, and potential. An ecosystem of emerging products that allows creators to launch their own auction that will feature contingency, permissionless auto-execution, and operate with the help of on-chain governance. It allows you to choose from a variety of auction types such as fixed exchange, sealed bid, Dutch and English auction.
This Ethereum-based token is said to be the native utility token and can be used for a variety of purposes, such as supporting incentives in the protocol, making payments in respect of certified listings, and providing governance rights and benefits to token holders. . on the platform.
A complete set of developer tools that make it easy to reap the benefits of decentralized auctions. This project completed its IDO on integrations with Ethereum, Kusama, MetaMask, Polkadot, and WalletConnect.
Today's bounce price is $39.54, with a 24-hour trading volume of $23,338,582. There are 7.2 million AUCTION coins in circulation, with a total amount of 7.19 million.
#8. PAID Network
Overview
The PAID network is a blockchain-based decentralized application platform (DAPP) ecosystem. Users can create their own policies to ensure they get paid. PAID is the first to create SMART Agreements, which are simplified business contracts that can be signed on-chain.
Standard contracts come with smart auto-complete features. Disagreements over insurance pooling and escrow are governed by community stakeholders. In addition to the features mentioned above, PAID uses DeFi tools such as lending, lending, and insurance pooling. PAID holders can deposit their tokens into liquidity pools for loans and insurance, as well as obtain loans for their business ventures.
The PAID network is supported by the following platforms: Apollo-X Launchpad, Binance Smart Chain (BSC), Ethereum, and Ignition Launchpad.
Today's November PAID network market price is $0.493950, with a 24-hour trading volume of $872,755. There are 120 million PAGA coins in circulation and a total supply of 595 million.
#9. Starpunk
General
Starpunk is a new decentralized autonomous organization (DAO) that aims to connect blockchain/NFT gaming startups with a global community of cryptocurrency gamers and investors. You are following the Play-To-Earn technique to do so. Starpunk's goal is to create a launch pad for the emergence of new NFT/Blockchain games. Furthermore, it aims to create a virtual world where anyone can play, win and create anything with their imagination.
To release only the best NFT/Blockchain games, Starpunk only collaborates with the top game studios in Vietnam. Once the game is ready, they will speed it up on the Star Pad, the Starpunk game's launch pad, to promote it and raise seed money. The first game project to be released on Starpad is Heroes and Empires. With features like a white label marketplace, wallet, Defi services, and auctions in its ecosystem, Starpunk brings a smooth and easy gaming experience to its users. 
#10. Red Kite
Overview
There are many types of launch pads available in the market that can help new crypto projects have proper launches. Red Kite is one of the recent entrants in the launchpad and IDO market. It is showing good results and is also helping new crypto projects to have the launch they want. Red Kite is helping investors participate in transparent token sales for new crypto projects. The most basic reason why new crypto projects usually fail to raise a good amount of capital is due to the poor marketing techniques they use. Fear of scams is also a reason that is also responsible.
Red Kite has built good connections with influencers and marketing partners leading new crypto projects with good equity funding. The projects present in Red Kite go through a rigorous analysis to avoid any type of scam in the future. Red Kite works on a multi-chain support technique, which means that it supports Ethereum and BSC pools. It will soon be compatible with Polkadot and will become the first platform on the Polkadot network to have flexible group types and whitelist conditions. 
Conclusion: Are Crypto Launchpads Worth It?
The pitch decks give regular investors access to opportunities previously only available to venture capitalists and other large-scale investors. However, there are two solid reasons why you might want to invest in a launch pad project. The first is that you want to get access to projects. The second is because he thinks the native launchpad token will be appreciated. Without a doubt, we suggest platforms like Starpunk, GameFi, and TrustPad as our top priority.
The key reasons why crypto investors prefer IDOs to IEOs are accessibility and security assurance. With accessibility, anyone can purchase tokens for any amount during IDO and no additional checks are required. Also, there are no restrictions related to the authority of the investor in the Initial DEX Offering, while they may be present in the Initial Exchange Offering.