AMC Theaters announced today that it will partner with VeVe on the first licensed Jurassic Park NFTs in promotion of its upcoming film Jurassic World Dominion.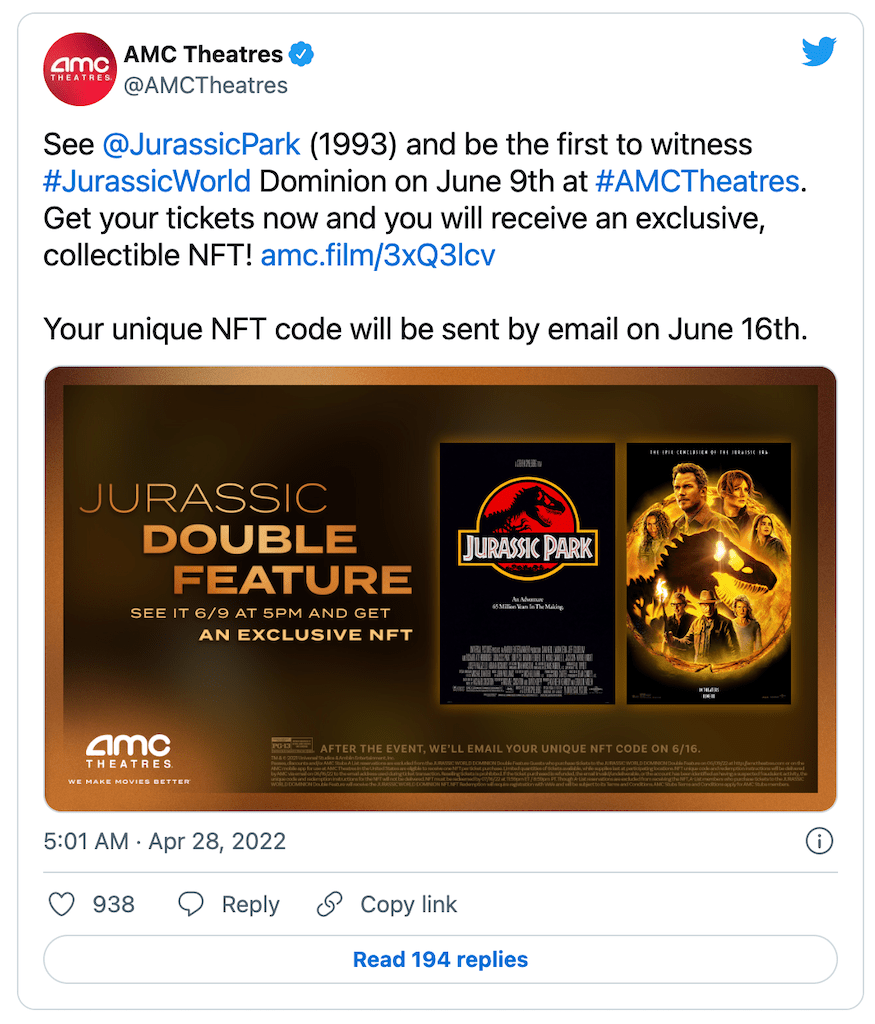 However, there are some important caveats if you want to get an NFT.
First of all, you need to buy tickets specifically for the Jurassic Double Feature on June 9. This is a 5-hour double feature featuring the original Jurassic Park movie and the new Jurassic World movie. The link that AMC included in their tweet is wrong!
Second, you need to sign in to AMC when you buy the ticket. You don't need a premium membership, you can only have a free AMC Stubs Insider account, but you do need to log in to qualify for the NFT.
You'll know if you qualified for the NFT when you receive your confirmation email, and at the bottom there will be a note about the Jurassic World NFT: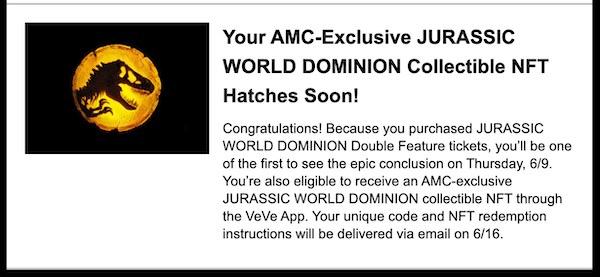 AMC's website says you'll receive 1 NFT per ticket. However, previous NFT giveaways only provided 1 NFT per order, so it may make sense to order each ticket separately just to be safe.
AMC's previous NFT giveaways have also required people to actually attend the movie and scan their ticket. The terms for the Jurassic World drop don't mention this as a requirement, but it might be a good idea to scan your tickets anyway just in case.
Once you've purchased your tickets, AMC will email you a VeVe promo code on June 16, 2022 that can be redeemed in-app for the collectible. The code must be redeemed by July 16, 2022.
There will be three different designs that will be randomly assigned, so it may make sense to buy multiple tickets so you can collect them all.
Prediction
It's hard to know how much these collectibles will be worth without knowing what's dropping or how many are dropping, but here are my predictions:
I couldn't find any times in Europe, so this promotion may be US only.
There are 593 AMC theaters in the US.
There seems to be only one showing per theater for the double feature, so 593 showings total.
There are about 80 seats per theater in the theaters I looked at. Let's assume 100 just to be sure.
So assuming all seats are filled, that would be a total of around 60,000 issues for this collectible, which is comparable to typical Marvel or Disney installments.
However, suppose that only half of the people who buy tickets are online. That brings the total down to 30,000.
And suppose only about a tenth of those people actually download VeVe and redeem the promo code. That's about 3,000 issues total for the collectible. That's decently rare, about the typical edition size for an ultra rare collectible.
How high prices rise will depend on exactly what falls. If it's something boring like a poster, I'd expect it to retail for 40-80 gems.
However, if it's something cool like actual dinosaurs (imagine a 3D t-rex, stegosaurus, or triceratops!) you could see them for 300 gems or more.
Either way, I don't expect these to sell below retail price, with tickets selling for $22 a piece (or as low as $15 in some states). If you factor in the cost of the movie, these NFTs are practically free.
Thoughts
It's exciting to see VeVe doing more great partnerships like this! AMC is a big name in the meme/NFT storage space, so hopefully this can bring a lot of new users to VeVe.
The last few Spider-Man NFTs that AMC offered were so popular that their website crashed due to people trying to order tickets, and those NFTs were pretty dumb.
I don't expect these collectibles to be below retail price, so I've personally bought a dozen tickets already and could buy a few more. June 9th is my birthday, so I can practically rent a theater and enjoy the show with some friends.