The term "pulling the rug" does not have positive connotations. Either someone is going to fall flat on their face, furniture is going to fall over, or in the case of the NFT world, a lot of people are going to lose a lot of money.
A rug-pulling scheme is what happens when crypto developers lure early investors into a project, then quickly abandon it. This happens either by taking off with the project funds or by selling your pre-mined assets. In either case, this is done to divert all funds away from the community that bought the project.
After a project's NFT prices rise high enough to satisfy people looking to get a rug going, developers will hastily transfer funds out of the ecosystem and essentially disappear, leaving investors with few or, more likely, few. without any legal recourse. Welcome to the dark side of Web3.
Several notable rug pulls in recent years have served as perennial reminders of the risks of the NFT world. We've compiled a short list of some of the most memorable (and expensive) the ecosystem has ever seen. If there is a silver lining to these events, it is that they have educated people on how to more effectively identify and avoid NFT scams.
Frosties Freezes Carpet Pulling Nets $1.3 Million
Released on January 7, 2022, Frosties was an ice cream-themed collection of 8888 NFTs that went to great lengths to promote itself as a "cool, delicious and unique" project. The founders, Ethan Nguyen (known as "Frostie") and Andre Llacuna (known as "heyandre"), built a sizable community on their Discord and promised collectors merchandise, raffles, and a fund to ensure the longevity of the project. .
NFTs were priced at 0.04 ETH per mint, meaning that by the time the collection sold out a few hours later, the team behind the project had netted 335 ETH, just over $1 million. Then the project website and Discord quickly disappeared, with the funds from the sale being transferred to various wallets. The founders could not be contacted by people who had purchased from the community, who were left with nothing more than their digital art and a host of unpleasant feelings.
Unfortunately for Nguyen and Llacuna, it was just when the Department of Justice began paying more attention to fraud cases in the world of cryptocurrencies.
On March 24, 2022, following a two-month investigation, prosecutors for the Southern District of New York arrested and charged the couple with conspiracy to commit fraud and conspiracy to commit money laundering on the grounds that they had "promised to investors the benefits of the Frosties NFT, but when they ran out…they pulled the rug out from under the victims, almost immediately shutting down the website and transferring the money," according to the press release.
The case is still ongoing, but it is widely regarded as the department's first NFT carpet removal bust and is a significant moment in NFT history.
Big Daddy Ape Club
Big Daddy Ape Club was supposed to be a collection of 2222 ape-themed NFTs intended to be minted on the Solana blockchain and then listed for sale on the Solanart marketplace.
The biggest rug pull in Solana's blockchain history, Big Daddy Ape Club stands out as exceptionally painful. Most rug shooters watch project developers offer up some NFT art and run off with the money. Not so with Big Daddy Ape Club, a project that managed to raise 9136 SOL, roughly $1.3 million at the time, to mint his project's NFTs. Except those NFTs didn't even exist.
Sadly, in the hours before mint, Big Daddy Ape Club blocked and then disabled the project's Discord, quickly followed by the disappearance of the project's Twitter account and website. No investor received the NFTs they paid for.
This rug pull was especially galling because the project had passed a verification check by Civic, a decentralized identity verification company. To their credit, CEO Chris Hart and the rest of Civic are now working with law enforcement to apprehend those responsible for the scam.
Baller Ape Club rug pull draws attention from DOJ
The team behind another ape-derived NFT project has fallen on hard times. Le Anh Tuan, the founder of Baller Ape Club, was recently charged with conspiracy to commit wire fraud and conspiracy to commit international money laundering by the Department of Justice.
Tuan is said to have made off with $2.6 million from Baller Ape Club investors after, you guessed it, launching the collection and then taking down the project's website and laundering the money. According to the Justice Department, Tuan converted the funds into various cryptocurrencies and then transferred them through various blockchains, a process known as "chain hopping."
The Justice Department distinguishes the case as "the largest known NFT scheme to date."
Evil Ape cheats community Evolved Apes NFT
The founder of Evolved Apes, the anonymous individual who calls himself Evil Ape, managed to steal 798 ETH ($2.7 million) from the project's investors just a week after the collection was released. Evil Ape's Twitter account and project website no longer exist.

Evolved Apes is a collection of 10,000 NFTs that are ironically described as "trapped within a lawless land." The project was intended to be a fighting game similar to Axie Infinity. Needless to say, that game never materialized. However, the collection still exists on OpenSea, where the minimum prices have dropped to an astonishing 0.01 ETH.
Pixelmon's almost carpet pull
The Pixelmon case doesn't quite fit the technical description of a carpet pull. Still, it inhabits a very similar space and serves as a valuable lesson in hype and credibility in the NFT community. Consisting of 10,005 NFT pieces of pixelated characters, the project launched on February 7, 2022, having done a fantastic job building a mountain of anticipation around their collection and its future potential.
Pixelmon promised an open-world-style AAA adventure game with low-res pixel art reminiscent of Minecraft set in a Pokemon-style universe. According to its founder, Martin van Blerk, the team behind the project had worked for companies like Disney and Activision, raising hopes that once revealed after launch, the NFT art would truly be something special. This notion was reinforced by the Pixelmon team by announcing that the mint would be in the style of a Dutch auction starting at 3 ETH.
The 8079 NFTs available for the main sale sold out within an hour of the mint launch, with most collectors paying the full price of 3 ETH. Pixelmon's team had raised 23,055 ETH (just over $70 million) when it was over.
Soon after, community fears began to surface as details about the team's identities and the metaverse game they were building remained scant. The NFT art had yet to be revealed. Secondary sales plummeted to around 1 ETH just hours after launch.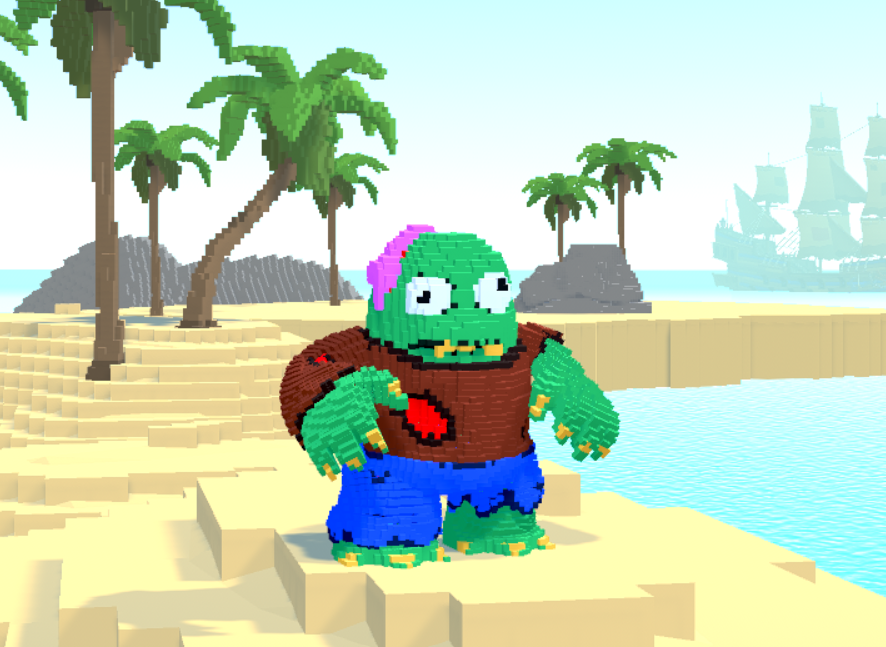 When the art was finally revealed to the community on February 16, collectors were baffled. The difference between the art the project team had scoffed at and what he had delivered was, to put it mildly, enormous. The pixel art seemed amateurish, often meaningless. This isn't to say that pixel art, or art of any kind, can't be valuable to an NFT community, but community members felt like the rug had been pulled out from under them. Many of the NFTs had rendering issues, appeared backwards, or did not appear at all. Most were repetitive with little or no variation in design.
Adding to fears of being manipulated, allegations were leveled at van Blerk that he took project funds to go on a top-tier NFT buying spree that saw him acquire Bored Apes, Azukis, CloneX, Invisible Friends, and others.
While Pixelmon fixed the rendering issues, its founders admit that the launch was, to put it mildly, botched, with van Blerk taking to Twitter to offer an apology. The project seems to be picking up lately. It currently has a minimum price of .21 ETH, and some of its hilariously bad NFTs have gained a cult following and sell for two, four, and sometimes 5 ETH at a time.
It's about as good a result as you can hope for in a situation similar to pulling a rug. Regardless, the Pixelmon case is a useful cautionary tale. FOMO is a powerful and sometimes dangerous thing in the NFT world.