Moonbirds took to the skies and quickly became one of the hottest stories in the NFT arena. Here's everything you need to know about the collection.
For many, 2021 was the year that saw a tremendous growth in the popularity of non-fungible tokens and launched them into the mainstream.
And while overall NFT sales volume has declined in 2022, the hype is far from over. During this year, however, the trend seems to have shifted from a fragmented market to one where blue-chip and high-end projects take center stage.
And while some projects like Bored Ape Yacht Club, CryptoPunks, Azuki, and others remain in the shadow of many of the newcomers, the Moonbirds NFT collection that launched in April 2022 caught the attention of the entire community.
What are Moonbirds NFTs?
Moonbirds are a collection of 10,000 non-fungible tokens issued under the ERC-721 standard on the Ethereum network that took off on April 16, 2022.
According to the official website, Moonbirds NFTs represent "Utility-enabled PFPs that boast a rich, diverse, and unique pool of rarity-boosted traits."
In essence, the project aims to become another top-tier PFP initiative, but it has also added many other benefits for Moonbirds owners. Beyond this ease of use, each Moonbird is also designed to unlock private club membership while attributing more benefits as users maintain them. This last bit is called nesting.
For example, owning a Moonbird also provides access to an NFT-powered Discord server. Once inside, users will have access to private Moonbirds channels that offer information about upcoming releases, community events, nesting, etc.
The collection was minted at a price of 2.5 ETH each and also comes with 5% royalties on every secondary sale that goes to creators. Moonbirds owners also have all intellectual property rights to them, according to the official website.
At the time of writing, which is less than a week after minting, the floor has risen to an astronomical 36 ETH (worth around $108K) in anticipation of nesting functionality to unlock.

What is Nesting?
Beyond their pixelated design that has stood the test of time within the cryptocurrency community (see CryptoPunks), Moonbirds are designed so that they can be locked and nested without leaving the user's wallet.
As soon as the Moonbird is nested, it will start accumulating more buffs and as the total nested time accumulates, users will see their NFTs reach new levels and thus upgrade their nest.
As of this writing, nesting is not available, although the team has promised that it will happen in the most timely manner possible.
Who Created The Moon Birds?
Speaking of the team, let's dig a little deeper into the people behind Moonbirds. The organization responsible for the collection is called PROOF, and they are behind the PROOF Collective and Grails projects.
The organization was founded by Kevin Rose and Justin Mezzell, both well-known figures in the NFT world. After the mint, Rose posted a YouTube video, revealing that they plan to use the proceeds from the sale to build PROOF into a well-known and reputable media company.
In any case, PROOF Collective is also a gated community that can only be accessed by those 1,000 people who own a PROOF Collective NFT, the current minimum price of which sits at a whopping 140 ETH or around $420K at the time of writing. this article.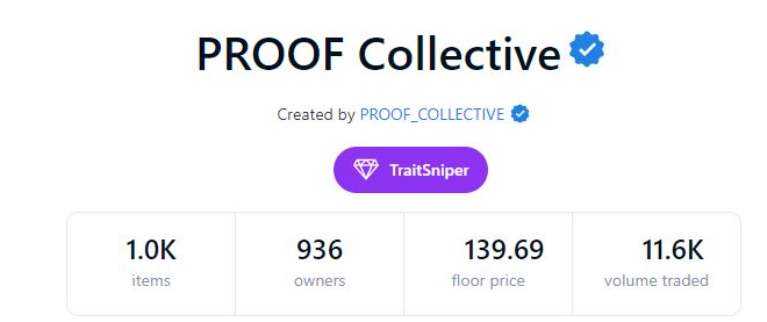 At its core, PROOF Collective is a private group of 1,000 NFT collectors and artists. Holding the PROOF Collective NFT has several benefits, one of which was the ability to mint two Moonbirds during casting.
Moonbirds NFT Launch: Controversy and Beyond
As with all hyped releases, Moonbirds also generated some controversy. When unboxing, it's important to consider how the collection was coined.
First of all, all holders of the PROOF collective NFT (mentioned above) received guaranteed two-bird mints. This makes a total of 2000 Moonbird NFTs.
Second, 7,875 moonbirds were allocated to those who won a raffle, and this is where some of the controversy arises. Well-known cryptocurrency researcher Zachxbt revealed that some users took advantage of the bots and created more than 400 accounts for the Sybil Attack giveaway. Many in the community argued that there's no reason this shouldn't happen, though it sure left a sour taste on fair users who couldn't mint because of this.
In any case, the last 125 birds were reserved for distribution by the team.
Why Do People Buy Moon Birds?
Needless to say, Moonbirds has been the hottest story in the NFT arena for the past week. In the six days since they were minted, the collection recorded a total trading volume of over 100,000 ETH, which is just under $300 million, far exceeding all other collections for the specific time period.
It seems that there are multiple reasons behind the massive interest. Art is surely among them. Moonbirds have unique traits, some rarer than others. This guaranteed a sale worth 265 ETH for the following Moonbird NFT: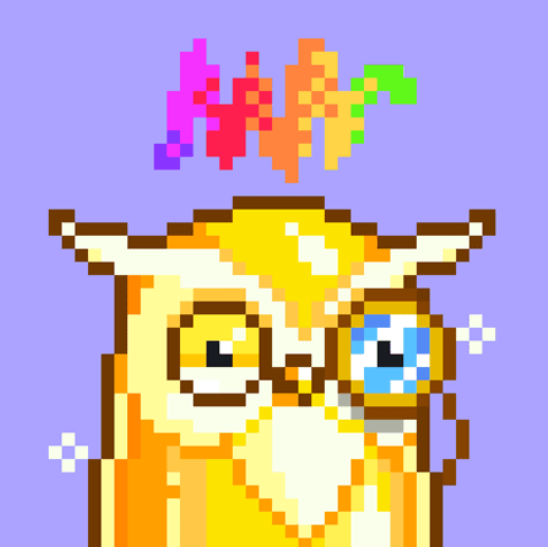 Its interesting design, coupled with PROOF Collective's reputation and the enormous attention the project garnered prior to the coin's minting, resulted in a lot of hype around it, which in turn creates further catalysts for the Moonbirds price. .
How To Buy Moonbirds NFT in OpenSea?
Buying Moonbirds NFTs on OpenSea is as easy as buying any other NFT on the platform. To do so, you need to find the collection – this is the only official OpenSea link.
Once there, you will need to connect a Web3 wallet where the most popular options are MetaMask and Coinbase Wallet.
Once you have connected your wallet, you need to get some ETH or WETH (Wrapped Ether). The Coinbase wallet has a built-in onramp from fiat to cryptocurrency, making it easy to buy cryptocurrency. MetaMask has similar functionality.
From there, you just need to navigate to the Moonbird NFT of your choice and hit the buy button. Selling follows a very similar process, but if you want to learn how to buy and sell NFTs on OpenSea and everything there is to know about the process, feel free to check out our detailed guide on the subject.