Did you know you can create an NFT marketplace using the Solana Blockchain?
Through the Solana blockchain network, now anyone can create various types of NFT markets. As a result, in less than a year, NFT sales in the Solana ecosystem increased dramatically.
This boom provides a life-changing opportunity for artists and transforms the way art is owned and distributed.
NFT – is a digital asset that proves digital ownership of digital assets such as photos, art, video games, and even virtual land.
If you are interested in visiting, or even trading in a Solana based marketplace, below is a list of the best Solana NFT marketplaces to check out.
Top 10 Solana NFT Markets
Below, we rank the best Solana NFT markets based on: transaction volume, wallet support, quality of listed projects, and other specifications. Some of these features include calendar and mint stats, transaction fees, and community.
SolSea
SolSea is Solana's first NFT marketplace to support artist minting and buying NFTs. Additionally, SolSea's First 100 is the first virtual NFT art exhibit of its kind, featuring early adopters and creators.
The Solana NFT Marketplace releases NFTs with different rarity ratings and can be purchased with various tokens such as SOL, AART, SKULL, BASIS, CHICKS, and DAWG. You will never miss an upcoming project through SolSea's Calendar feature.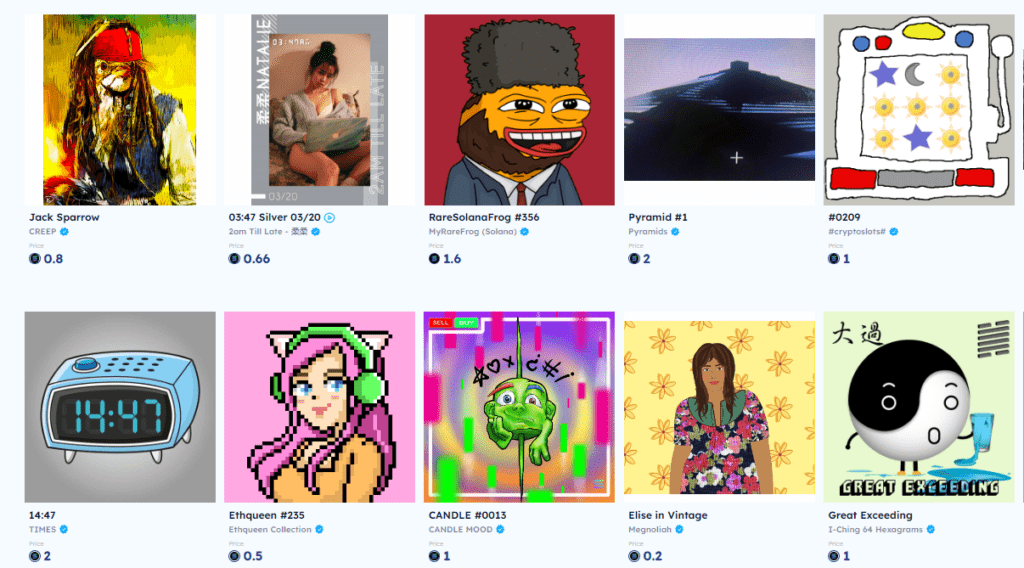 Regarding the rarity levels of your NFT collections, the platform ranks them with its built-in NFT minting system that automatically incorporates licenses as well.
SolSea charges a 2% transaction fee.
Magic Eden
Magic Eden is one of the most popular Solana NFT marketplaces where you can produce, sell and buy NFTs. The platform does not charge a listing fee, but does charge a 2% transaction fee.
The platform only displays a limited number of projects from certain artists and creators can also set their royalty rates and get paid once a sale is made.
This Solana NFT marketplace supports almost all Solana based transactions.
Magic Eden's Launchpad feature provides goods and services designed to help artists and creators build their collections without the need for technical knowledge. Therefore, making it easier for creators to continue to market their work.
However, they need to apply for Magic Eden Launchpad first.
Solanart
If you are looking for a dedicated NFT marketplace on the Solana blockchain, look no further than Solanart.
Solanart is also one of the most well-known Solana NFT marketplaces, where anyone can create, sell, and buy Solana-based NFTs. Solanart's popular NFT collections include Degenerate Ape Academy, Galactic Gecko Space Garage, Solpunks, and Aurora.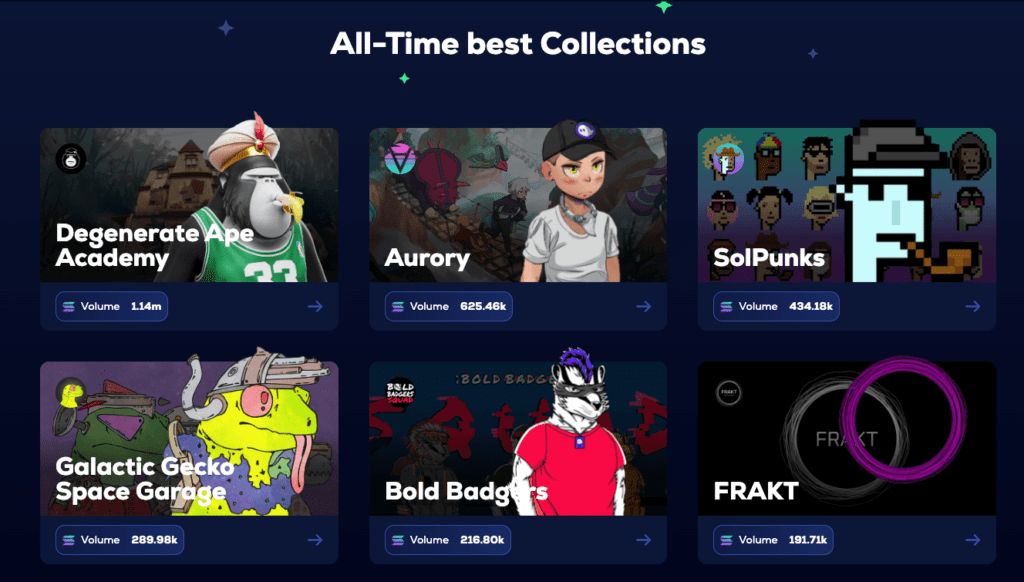 Creators are free to set their costs and Solanart charges a 3% transaction fee for every successful NFT sale.
The NFT creator can also stipulate their royalty fee, which Solanart will include in the sale price.
Metaplex
Metaplex is another one of the best Solana NFT markets.
Metaplex has a decentralized on-chain application that prints and sells NFTs. With each successful NFT exchange, users can avoid the transaction fees charged by the marketplace. In addition, Metaplex makes it easy for users to create their storefronts.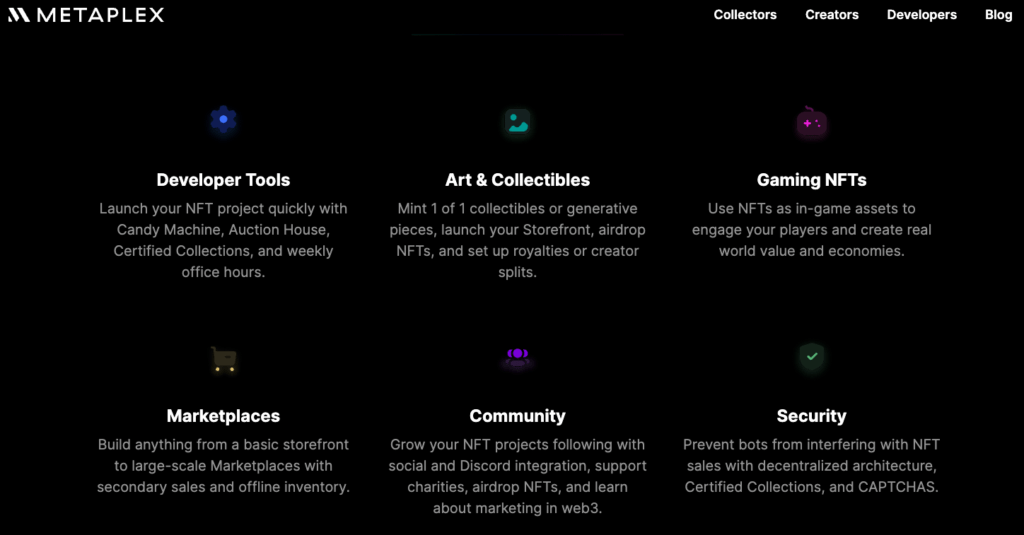 Additionally, the platform focuses on creating a community of artists who work together instead of against each other.
Exchange.Art
This Solana NFT market is a welcoming environment for everyone, be they beginners, art enthusiasts or independent artists. Exchange.Art also has a collection of hand-selected art collections. From illustration, drawing, photography, painting, algorithmic art, profile picture, AI art, 3D art, etc.
At Exchange.Art, you are not charged for registering your item. However, a 2.5% fee is applied to each successful transaction. You will also have to pay the Solana Network fee, which is not included in the purchase price.
Solport
Solport is a Solana NFT marketplace that offers features like scarcity filters, user auctions, notification of market activity via Discord, Telegram, etc.
Solport lists notable Solana NFT projects, such as Monkey Business and Realm Kings Mutant. In the Solport marketplace, there are no registration fees and no redemption fees. But Solport charges sellers a 2% sales commission.
DigitalEyes
DigitalEyes is Solana's first open NFT marketplace and allows users to create, sell and buy Solana NFTs.
The top rated and most popular NFT collections on DigitalEyes include Aurory, Galactic Gecko Space Garage, Degenerate Ape Academy, and Frakt.

DigitalEyes is compatible with Phantom, Sollet, Solflare, Solong, Slope and MathWallet wallets. DigitalEyes charges providers a 2.5% transaction fee.
NFT buyers will also be charged two additional fees: an artist-defined royalty fee and a service fee.
Alpha.Art
Alpha.art is a unique Solana NFT marketplace where users can buy and trade Solana-based NFTs.
There are no costs involved in listing on Alpha.art. However, this marketplace charges a 2% selling fee, which is incurred at the time of the transaction.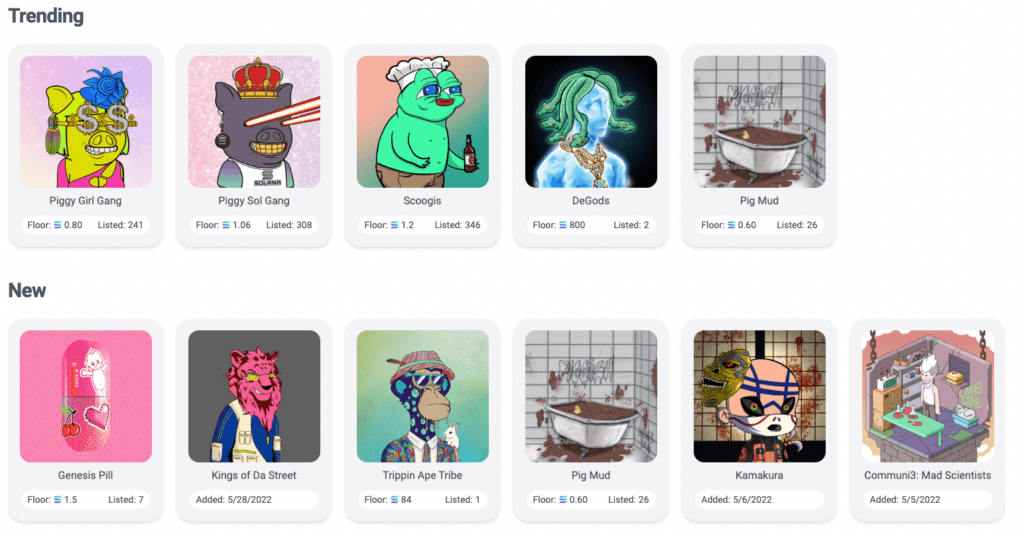 Solana wallets such as Phantom, Slope, Solflare, Ledger and Sollet can be used in Alpha.Art.
However, at the time of writing, Alpha.art does not yet support minting.
Supadrop
SupaDrop is an NFT marketplace that focuses on highlighting and nurturing small, independent artists who create one-of-a-kind, original digital art. Artists can work with various materials (AR/3D, video, audio, HTML, and images).
This is complemented by a user experience and community.
The minting fee charged in this market is 0.01 SOL and 0.03 SOL. They also sponsor weekly Artist Drop Part Sessions so artists can promote their work on SupaDrop.
FTX
FTX is a recently launched Solana NFT marketplace that offers auction-style buying and selling. As with some older NFT markets, FTX NFTs do not charge a listing fee. Additionally, royalties can also be set by the creator.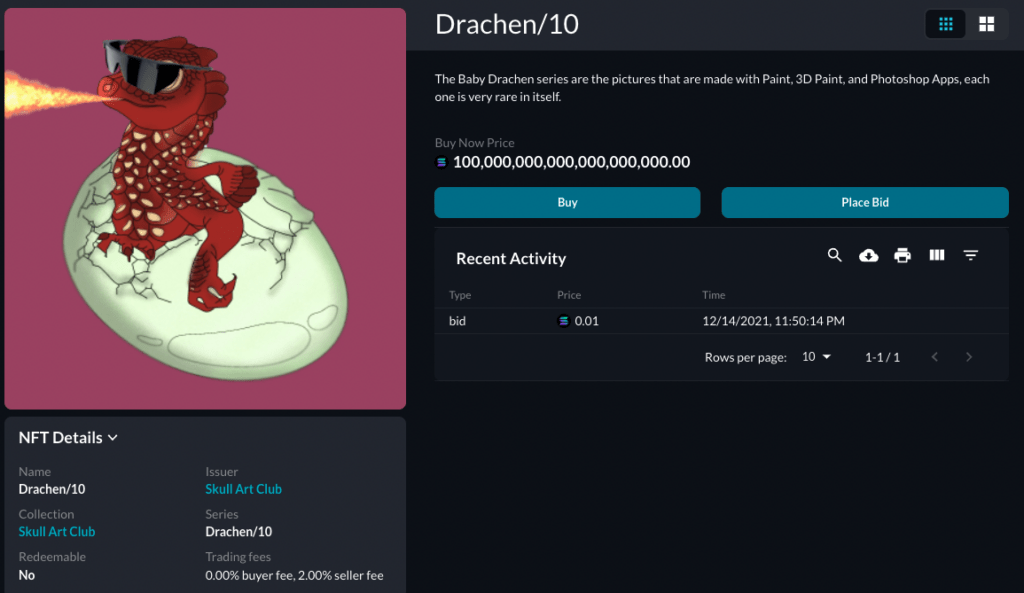 FTX is a cryptocurrency exchange platform created, developed and managed by merchants. FTX leads the industry in the use of leveraged derivative tokens, options and assets. The platform strives to be an easy-to-use and promising platform for professional traders and first-time users.
Other
Solana NFT Markets In addition to the 10 Solana NFT markets mentioned above, the following are four notable NFT markets that were established using the Solana network.
Milkyway
LIQNFT
RabbitHole
Artz
Solid
Interested in Solana's NFTs?
With so many NFT marketplaces offering so many amazing things, there really is no reason not to get involved with the Solana blockchain.
If you are interested, you can even start trading with Solana right here at Zipmex.
Zipmex also has coveted NFT tokens like Decentraland (MANA), Axie Infinity (AXS), The Sandbox (SAND), Theta and Enjin Coin (ENJ), and others at the best price and lowest spread.
Interested? Start researching cryptocurrencies and NFTs on the Zipmex learning page and sign up for an account when you're ready.