The Metaverse Design Story collection is the latest addition to H&M's ongoing innovation stories. As the lines between life online and offline continue to blur, our design team blends the craftsmanship of couture with worlds of fantasy and virtual reality. The result is a collection featuring both physical ready-to-wear garments and digital garments, co-designed and produced by the Digital Fashion Institute.
The collection is inspired by the metaverse, a place where fashion can be enjoyed unfettered by the laws of gravity or societal expectations. At the same time, the tactile beauty of the natural world serves as a reference point, with pieces inspired by satellite images of planet Earth, microscopic cells, and vibrant wildflowers.
"We wanted to present our customers with an explosive collection that would capture the excitement we all feel at the dawn of the metaverse, but also the fascination we have with the natural world. The resulting collection is extraordinarily tactile, hand-beaded and intricately constructed garments. , but also explores the endless possibilities of the digital sphere and H&M's circular mindset."
says Ella Soccorsi, conceptual designer at H&M.
Designed with circularity in mind, several pieces feature recycled polyester fibers made from textile waste collected in partnership with our garment collection program. The collection also uses innovative materials like REPREVE® Our Ocean™ recycled polyester made from plastic bottles in the ocean. After years of development, 100% recycled sequins made from plastic bottle waste are used to embellish multiple styles.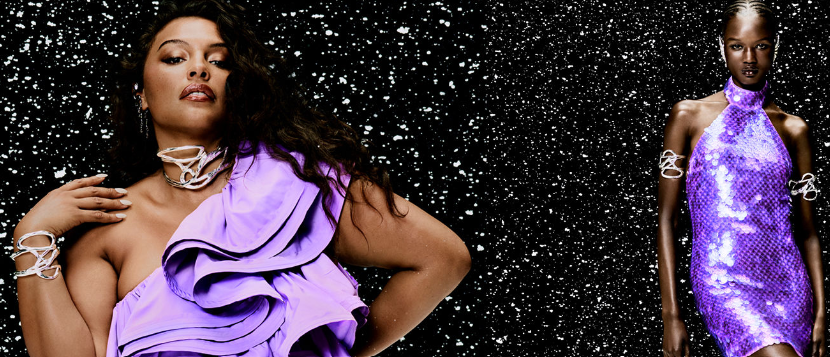 Key pieces for women include a fuchsia ball gown mini dress and a purple mini dress with ruffles resembling a blooming flower. A neon yellow dress with a corset waist and dramatic tulle skirt also takes center stage alongside a maxi dress in a trompe l'oeil print and a halter neck ball gown embellished with 100% recycled sequins. Meanwhile, futuristic jewelry takes inspiration from liquid metal that appears to have been filled with pixels, coiling around the neck and wrists in the form of chokers, bracelets, and ear muffs.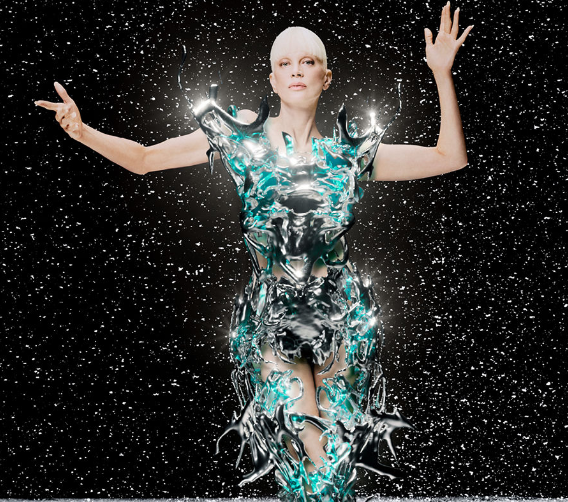 The metaverse offers a new way of looking at personal style and the potential of limitless and ever-evolving wardrobes. The collection explores this frontier with a selection of 3D filters made by the Digital Fashion Institute in its digital workshop. For one dress, water droplets move and wrap around the body, and for another, aquatic flowers ignite in shimmering, algae-inspired spikes. Other filters include a rendered look with clustered onyx stones, as well as a swirling metallic gown and molten headdress that sparkles with electricity.
"Together with H&M, we created and built the digital garments featured in the Metaverse collection. We considered the ephemeral world around us and wanted to look beyond physical materials and their restrictions. These digital garments go beyond seasons, gender and the realities: they are for everyone,"
say IoDF co-founders Leanne Elliott Young (CEO) and Cattytay (Creative Director).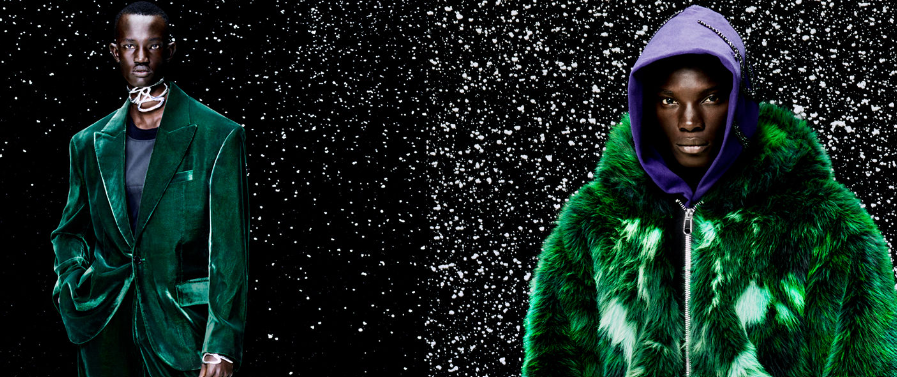 Men's fashion highlights include a forest green faux fur coat inspired by landscapes seen from above, an oversized bomber jacket embellished with intricate beading, and an extravagant pair of ruched pants with ribbons and a matching suit in emerald green velvet. For after dark, one top features a boned corset waist with lace-up ties at the shoulders, and another style sparkles throughout with recycled glass beads. Aside from the jewelry, the accessories include a pair of amphibian sneakers and an embellished cap to match the bomber jacket.
The design story from H&M's metaverse of innovation will be on sale in select stores and online at hm.com, and will be available to rent in select stores from December 8, 2022. Local deviations may occur.