I'm on a mission to find the best metaverse casino out there.
Bring me the best casino in the metaverse, hurry. One that has everything I want and could ever need. From great games and bonuses to opportunities to generate passive income with my bets, I want it. And I want it now.
You might be thinking that my demands are unreasonable. That's because they are. It takes time to compare the best and a lot of patience. But luckily, I've done the legwork to offer great metaverse casinos that you should try.
Some of you may be thinking, "What is the metaverse?" And that's fine. It's probably best to establish a frame of reference for how it all works before diving into the deep end.
When you have a basic understanding of betting in the metaverse, let's get down to business.
Should you play at a reputable online casino instead?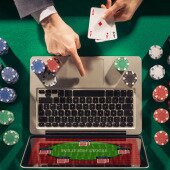 How does the best metaverse casino compare to online ones?
I'll stop short of giving you a definitive answer to that question now. There is much to consider before weighing both sides of the coin. But I also want to note that comparing the best casinos in the metaverse to the top online sites is not easy.
There are the more obvious points to consider, of course. First, to play at any casino in the metaverse, you will need a virtual reality (VR) or augmented reality (AR) headset. It's not as easy as logging in through your phone or personal computer.
Many are reluctant to say goodbye to online casinos for that reason alone.
Others will play both worlds, and I'll share my best metaverse casinos below, so you know where to explore. But if you stumbled across this article looking for the best online casinos, the table below presents our top recommendations.
Casinos in Decentraland
Decentraland is considered by many to be home to the best casinos in the metaverse.
The platform hosts Decentral Games, a network of decentralized applications (dApps) running on its exclusive DG token. The network that encompasses these metaverse casino games is headed by a Decentralized Autonomous Organization (DAO) where token holders can contribute to the games and casinos on the platform.
There are two main game worlds to explore in Decentraland. These are ICE Poker and the standard metaverse casino experience. ICE Poker, as is often the case, is widely considered the best casino in the metaverse.
It's not hard to see why, given their revolutionary and innovative approaches. Never mind the full range of games accessible to gamers. Everything from poker, roulette, blackjack and slots is easily found within a brilliant and immersive world of high-tech gambling.
Decentral Games offers two different types of Metaverse gaming experiences: ICE Poker and your average Metaverse casino.
The ICE NFT token allows players to try their hand at various games while providing access to other challenges and competitions, with the DG token serving as the governance token. With these, players can use community votes to "modify economic incentives" and "allocate fees that accumulate in the Decentralized Games treasury."
All of that sounds very interesting. Of course, one thing you can't do at Decentraland is gamble at live dealer casinos for real money. If that's something a little more to your liking, I'd probably consider Bovada a better option.
Sandbox Casinos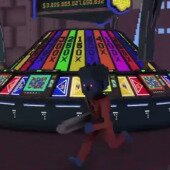 Another of the best metaverse casino experiences you can find is the SandVegas Casino.
It is true that this world is still developing. As such, it will be a while before it catches the attention of many players. The project is very ambitious, however, with the participation of Adidas and Snoop Dogg.
If you're looking for where to bet in the metaverse, this is worth keeping in mind.
In addition to various games such as slots, poker and roulette, there is also the possibility to win money and purchase a fractional ownership program.
If you're still wondering what exactly the metaverse is, this might all sound crazy.
I digress. The early stage design looks promising. It allows gamers to immerse themselves in a world where they can relax and enjoy gaming. Or listen to live DJ sets and have a couple of cocktails while enjoying the breeze with others.
Well, not real cocktails. I mean, we haven't gotten that far with the metaverse stakes. The same applies to real money. So, if you like to play blackjack with cash deposited from your card or e-wallet, chances are you'll find it a bit irritating.
If that's the case, you can always explore the options at Wild Casino.
EarnBet Casino
Since hitting the block recently, EarnBet has turned heads.
Some reviewers already tout it as the best casino in the metaverse. And there seems to be every reason to believe that. The design is nice and simple, which encourages players to accept the project to see faster progression.
Founded on the BET crypto token, EarnBet allows players to access a growing library of games with low house edges. More than that, you can further reduce the house edge by taking with BET.
Some of the most attractive points of playing at one of the best online metaverse casinos include.
These are very attractive factors. But not everyone will be interested in them, of course.
Some players will want to play the best metaverse casino games for novel purposes. Others will be looking to find a new home, with casinos being obvious destinations for EarnBet. As for giving you a 100% easy gaming experience? No.
In my opinion, the excellent all-in-one online betting sites will take a beating. For that reason, casinos like Las Atlantis will continue to see new players looking to try their burgeoning catalog of slots and other games.
Edgeless Casino
It's hard to ignore Edgeless.io when it comes to the top casinos in the metaverse.
Billed as the "world's first crypto casino powered by Ethereum", the site welcomes players of all backgrounds to try their luck in the realm of the metaverse. One aspect that might be of interest to more confident players is that they value a straightforward and completely honest approach to betting.
Edgeless is officially licensed by the Curacao Gaming Commission.
The company behind this site wants to set a precedent for complete candor.
To be fair, they do just that. Not only do they publish their smart contract and Edgeless Casino funds, but you can also find details of every single jackpot payout on the site. All of this is available on the blockchain for players.
Edgeless utility currency is EDG and it is powered by the Ethereum blockchain. You can use the coin to bet on roulette, slots, jackpot games and its Crash title.
You might check out these guys if you are wondering where to play casino games in the metaverse. But if you're still not sold on the idea, El Royale Casino is a real money site with a vast library of casino games.
Comparison of the best metaverse casinos
I guess the best metaverse casino is the one that ticks all the boxes.
Subjectivity is at the center of any comparison. That theory stands up to any criticism, in my opinion. What one person enjoys may be a little taste of hell for the next, and vice versa.
IMPORTANT
To find the best casino in the metaverse, you should try as many as you can.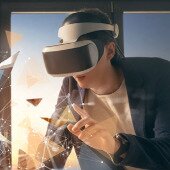 However, who has time for that?
The main reason I shared my top four metaverse casino sites with you today was to help you with that process. It's much easier to list four of them and let you go and try them for yourself.
But as you may have noticed, I also provided you with some stellar alternatives in the form of top-notch casinos and betting sites.
Now, if you already know about those alternative casinos, it might be worth checking out a longer list. Who knows, you might even find the best USA online casino by comparing them.